"Radiant prose, palpable descriptions, and deep empathy for the poet's sensibility make this biography extraordinary."
– Kirkus Reviews (starred review)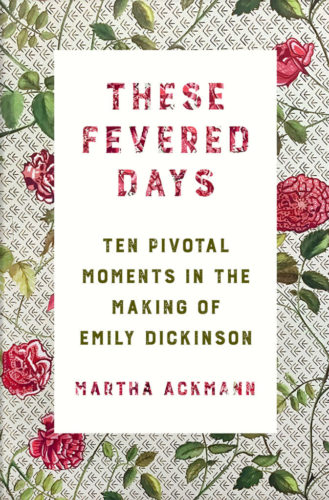 Join us for a reading and book signing by Martha Ackmann, author of the recently released These Fevered Days!
In These Fevered Days, Ackmann unravels the mysteries of Dickinson's life through ten days that distill her evolution as a poet. Following Dickinson through her religious crisis while a student at Mount Holyoke, her exhilarating frenzy of composition, her startling decision to ask a famous editor for advice, her anguished letters to an unidentified "Master," her lifelong friendship with writer Helen Hunt Jackson, and her despair in confronting possible blindness, These Fevered Days utilizes thousands of archival letters and poems as well as never-before-seen photos to construct a remarkable map of Emily Dickinson's inner life. The book provides new insights into Dickinson's wildly original poetry and draws a vivid portrait of American literature's most enigmatic figure.
This program is free and open to the public. Books will be available for purchase on site, and light refreshments will be served following the reading.
4:30 – 6:00 p.m. at the Amherst Woman's Club. 
Out of an abundance of caution, we will be cancelling our public programs through April 30, 2020. 
We understand this schedule change may affect previous plans. We apologize for any inconvenience and look forward to welcoming you to the Emily Dickinson Museum as soon as we are able.