A changing place
"They say that 'home is where the heart is.' I think it is where the house is, and the adjacent buildings."
The Amherst of Dickinson's youth was a smaller place than the town depicted in this 1886 map, created the same year Dickinson died. Samuel Fowler Dickinson built the Homestead (1813) on high ground, allowing a view of the Holyoke Range. However, by the time his granddaughter Emily Dickinson was born in 1830, the town's industrial center known as the "The Crossing" (near the railroad) was visible—and audible—from the Homestead on Main Street. In the 1850s, Main Street was a dirt road with horse drawn carts transporting goods between the railroad, the village factories, farms, and town center shops, and the Connecticut River. A steady stream of neighbors, workers, students, and visitors strolled past the Homestead and Evergreens throughout the day.
Emily Dickinson to Elizabeth Holland, about January 20, 1856, in The Letters of Emily Dickinson, ed. Thomas H. Johnson (Cambridge, MA: Belknap Press of Harvard University Press, 1958), 2:323.
Courtesy of Jones Library Special Collections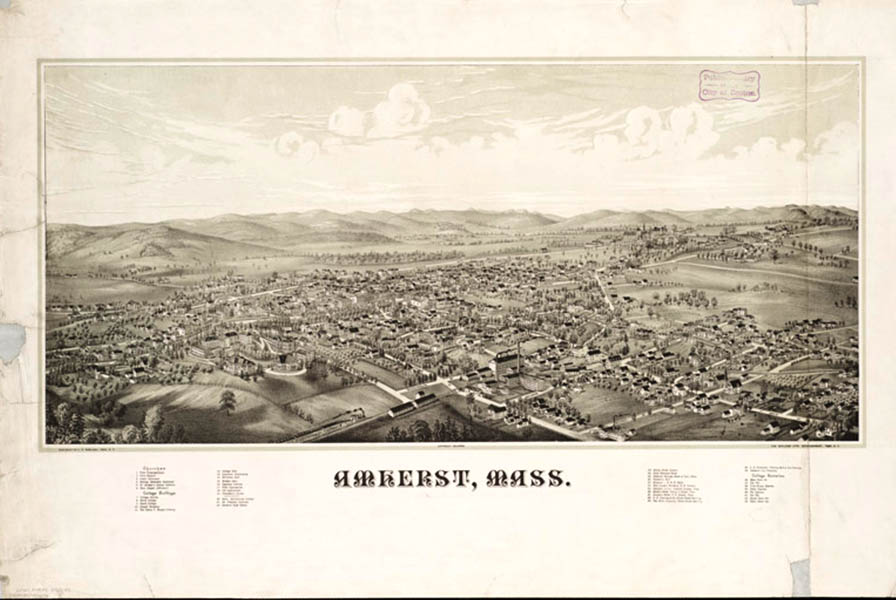 The poet's grandfather was a prominent Amherst lawyer, and a man of rare public spirit. The Dickinsons became central figures in the town's development. Fowler Dickinson was a driving force behind the creation of Amherst Academy in 1814, and among the first to subscribe to the charitable fund that served as the foundation for Amherst College (opened in 1821). Though his life overlapped with the poet's for only a short time, he left a lasting legacy in the home she lived in, the academy she attended as a child, and the college that was her family's community for decades.