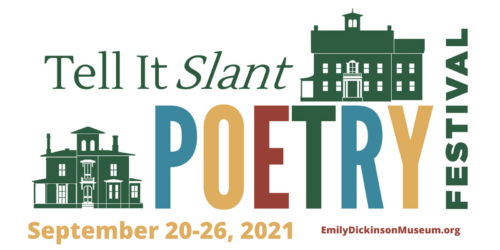 The Tell It Slant Poetry Festival is a free event that celebrates contemporary creativity and the poetic legacy of Emily Dickinson from her Valley home.
This year's Festival will be held remotely, and will take place September 20-26, 2021.
Support The Tell It Slant Poetry Festival and Honor Someone Special:
Admission to all Festival events is free, but online donations, especially those made in honor or memory of family, friends, or colleagues are heartily encouraged and vital to the future of this beloved annual event. All gifts are tax deductible and will be recognized as part of the Festival.
This year's virtual Tell It Slant Poetry Festival is hosted on Cadence. From this platform you can register for the Festival, build your schedule of events you'll attend, and engage with the Museum and other Festival-goers! Stay tuned for announcements of new Festival programs and pre-recorded content accessible from the platform too. The week of the Festival this will be your go-to hub for accessing live content. Accessing the Festival platform from a computer with an internet browser is recommended, but if you plan to use a mobile device or tablet, we recommend you download the Cadence app: eventcadence.com/Home/DownloadApp

View full program details and save your spot by registering on our virtual platform: 
REGISTER

---

THE SCHEDULE:

---
Monday, September 20
Emily Dickinson Poetry Marathon Part 1
with the Emily Dickinson Museum
5:00 pm ET
Slaying Shame: Bringing Wholeness to the Page
with Rage Hezekiah
7:30pm ET
---
Tuesday, September 21
Emily Dickinson Poetry Marathon Part 2
with the Jones Library
12:00pm ET
Chaotic? Good: Harnessing the Power of the Happy Accident in Your Poetry
with Emily Franklin, Maria Pinto, Brooks Demissie, and Walter Smelt
4:00pm ET
A Stranger in My Own Home: Black Experiences Within the American Literary Canon
A panel co-curated by Black Writers Read and Faraday Publishing Company
7:00pm ET
---
Wednesday, September 22
Emily Dickinson Poetry Marathon Part 3
with the Houghton Library
5:00pm ET
Visual Poetics in a Word Doc World
with Diana Khoi Nguyen, Octavio Quintanilla, Anthony Cody, and Jennifer Sperry Steinorth
7:30pm ET
---
Thursday, September 23
Emily Dickinson Poetry Marathon Part 4
with the Frost Library
12:00pm ET
Phosphorescence Poetry Reading Series
with the Common, Chloe Martinez, Rodney A. Brown, Elizabeth Metzger, and Moriel Rothman-Zecher
6:00pm ET
Memory Portals: The Poetry of Things
with Jane Wong and Jai Dulani
7:30pm ET
---
Friday, September 24

Staging the Poem: A Masterclass
with Tess Taylor
12:00pm ET
"Things to See by Ear Unheard": Poets Expressing the Ineffable
with Erica Charis-Molling, Anna V.Q. Ross, and Chloe Martinez
1:30pm ET
Emily Dickinson Poetry Marathon Part 5
with The Folger Shakespeare Library
3:30pm ET
Five College Poetry Slam
Co-hosted by the Nuyorican Poets Café
7:30pm ET
---
Saturday, September 25
"The thing with feathers": A Reading from 100 Poems to Save the Earth
with Zoë Brigley, Kristian Evans, Gwen Nell Westerman, Gbenga Adesina, and Dom Bury
11:00am ET
The Props Assist the House: Restoring the Homestead Part 3
with Jeff Baker and Jane Wald
1:00pm ET
The Poetry of Witness and Subversion
with Seelai Karzai and Sahar Muradi
3:00pm ET
Emily Dickinson Poetry Marathon Part 6
with the Emily Dickinson International Society
5:00pm ET
An Evening with Tracy K. Smith and Tiana Clark
7:30pm ET
---
Sunday, September 26
Poetry as Balm, Sustenance, and Resistance
with Jennifer Markell and Marjorie Thomsen
9:30am ET
Emily Dickinson Poetry Marathon Part 7
with the Emily Dickinson Museum 
11:30am ET
---
To reserve your spot and learn more about each program:
my.eventcadence.com/events/tell-it-slant-poetry-festival-2021
The Festival, which runs September 20 – 26 online, is named for Dickinson's poem, "Tell all the truth but tell it slant," underscoring the revolutionary power of poetry to shift our perspective and reveal new truths. Festival organizers are committed to featuring established and emerging poets who represent the diversity of the contemporary poetry landscape and to fostering community by placing poetry in the public sphere.
The annual event attracts a diverse audience of Dickinson fans and poetry-lovers, including students, educators, aspiring writers, and those who are new to poetry and literary events. Past Festival headliners have included Ada Limón, Jericho Brown, Franny Choi, Aimee Nezhukumatathil, Paisley Rekdal, Adrian Matejka, Kaveh Akbar, Ocean Vuong, and Shayla Lawson. Due to the Museum's current restoration of Emily Dickinson's Homestead, the 2021 Festival will be an entirely virtual event and all programs are free and open to the public.
The 2021 Tell It Slant Poetry Festival is made possible in part by support from the Massachusetts Cultural Council, Apple TV+ series Dickinson and wiip Productions, Levenger Company, the Amherst College Bicentennial, and Amherst College English Department.
Questions about the Festival? Email us at EDMPrograms@EmilyDickinsonMuseum.org
A special thank you to our individual supporters:

Alicia Askenase in memory of Mariah Reid Daly, Catherine Bancroft, Jane Brodwyn in memory of Nancy Leonard, David Clayton, Alfred Clemente, Joann Deiudicibus in memory of Pauline Uchmanowicz, Marina Durand, Christine Ellis in memory of Anne Wingfield, Stacy Evans, Becky George, Eleanor Heginbotham in memory of Judith Farr, Heidi Hermanson in honor of Matt Mason, Janet Hildebrandt in memory of Jennie Catherine Stephens Hildebrandt Weller, Elizabeth Lara, Kasy Long, Kerri McCanna, Allyson McGill, Nancy Meyer in memory of Eleanor Fisher Grose, Richard Millington, Janet Murphy, Dean Okamura, Jo Oppenheimer, Jeanne Osgood, Deborah Polansky in memory of Nancy Leonard, Tucker Respess in celebration of Tracy K. Smith, Lucy Robinson, Judith Smith in memory of Barbara Cianelli, Gwendolyn Soper, Lucille Sutton, Lanette Sweeney, Courtney Thomas, Mary Thompson in memory of David Lee Thompson, Maureen Thorson, Patricia Valdata, Cassandra Whetstone, Stephanie Wilcox in honor of Jayne Benjulian, Carol Young, Lucille Sutton, Arthur Moffa in honor of The Boston Poetry Slam, Carol Daugherty, Lauren Howard, Mary West, Nola Conn in memory of Ann Morgan Conn, Theresa Donahue in memory of George and Terry Allen, Jessica Cook, Martha Nell Smith in memory of Betty Bernhard & Judith Farr, Sarah Hunt, Tina Hoggatt, Amy Longsworth, Beverly Greenspan, Jean Dickinson, Joanne Scheier, Jodi Dills, Joe Arak, Katy Didden, Nancy McKay in memory of Don, Phyllis Federico, Windflower Townley, Judith Hudson, Julia Leef, Miranda Haydn, Paul Telles, Rosemary Kelty,  Sam McGullam in celebration of the EDM Programs Staff, Aurora Masum-Javed, Catherine Hoyser, Cecilia Dingledy, Cynthia Stanton, Jubi Arriola-Headley, Lou Homan, Nora Maroulis in honor of my 5th grade teacher, Mrs. Kiddess, Tanya Ehrsam in honor of Tony Castellani, Annie Stenzel in memory of Chana Bloch, Dawn Marar in memory of Ann Keegan Nash, Annie Rogers, Beth Williams, Colleen Carrington, Elizabeth Berin, Francine Montemurro, Margaret Anderson, Miranda Haydn in celebration of Poetry, Judy Davis,Lynette Terrell, Stuart Coats, Valerie Lipscomb, Althea Gregory, Anthony Artuso, Arlene Naganawa, Bonnie Wehle in honor of Jeanne Missey Osgood, Jill Wasserman, Justin Losey in memory of Carole Anne Tate, Kathleen Moore, Lauren de Paepe, Susan White, Anna Styers-Barnett in memory of Hugh C. Roelofs, Barbara Samuels, David Wilkins, Daychin Campbell, Diane Gardner, Donald Broman, Donna Leach, Eleanor Heginbotham, Ellen McCabe, J.J. Starr, Jacqui Zeng, James Cash, Katie Thorp, Laura Younger, Lois Anne, Lynda Perry, Marilyn Dykstra, Maura Langdon, Michael Mercurio in celebration of Michael Medeiros, Nancy Foley, Nicole Maldonado, Peter McGullam in memory of Ellen Miller Padden, and Rebekah Wolman