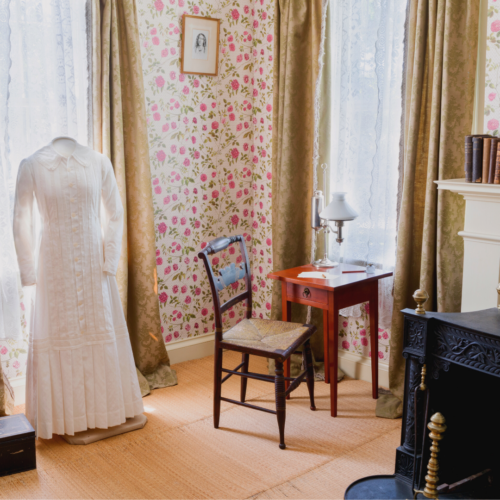 "Sweet hours have perished here;
This is a mighty room;
Within its precincts hopes have played, –
Now shadows in the tomb."
-Fr1785
Spend a "sweet hour" in Emily Dickinson's creative space where she penned her startling poetry and honed her revolutionary voice. Whether you are a writer, an artist, a composer, a poet, or a lover of poetry, you'll find inspiration in Emily Dickinson's bedroom. Let this quiet experience jumpstart your next creative journey.
Participants may spend up to two hours in the bedroom. A small table and chair will be provided.  Participants will experience the atmosphere of Dickinson's corner bedroom, and enjoy the view from the Poet's windows. 
Program Guidelines:
Photo ID must be presented upon arrival for your studio session and a photocopy will be made, which will be destroyed after your session.
The door to the bedroom will remain open, and staff will be present outside the room at all times. Participants must remain in the designated area of the historic room. Participants may not touch the historic furnishings in the bedroom.
Bags, food, and beverages must be left outside the room.
No pens, inks, or paints permitted. Pencil and paper or laptop only. Other materials must be approved by special request in advance.
Photography for non-commercial, personal use is permitted.
Sessions will not be rescheduled or refunded after booking except in the case of an emergency. Refunding and rescheduling are at the discretion of the Emily Dickinson Museum.
Registration is currently available for sessions August through December, 2023. Sessions are offered on Thursdays at 8:30am and Fridays at 5:15pm. Limited availability.

Pricing: 
1 person for one hour: $300
1 person for 2 hours: $500
2 people for 1 hour: $400
2 people for 2 hours: $600
Please direct questions to EDMPrograms@emilydickinsonmuseum.org.
Purchase of a studio session grants one free Museum admission per studio participant, to be booked during your visit to Amherst. To reserve your timed entry in advance, email connect@emilydickinsonmuseum.org.