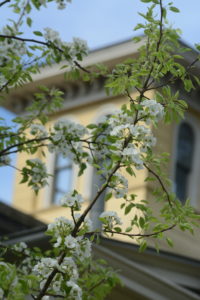 I dwell in Possibility
F466
What does the Emily Dickinson Museum Mean to You?
Leave a legacy that reflects your passions and contributes to the Emily Dickinson Museum's future by planning for a special kind of gift.
The 1830 Society
The 1830 Society is for those who have made pledges to give beyond their lifetimes. Your legacy will ensure the future of the Emily Dickinson Museum's mission to spark the imagination by amplifying Emily Dickinson's revolutionary poetic voice from the place she called home.
How to Join the 1830 Society
You can simply inform our development office that you have included the Emily Dickinson Museum in your will, retirement plan, or life insurance policy by emailing development@EmilyDickinsonMuseum.org, calling 413-542-5084, or sending notification to the Emily Dickinson Museum, 20 Triangle Street, Amherst, MA 01002 
About the Emily Dickinson Museum Gift Planning Program
Planned giving pays it forward, but can also benefit you in the here and now. Gifts through your estate, gifts that pay you income, and other types of planned gifts support the Museum while delivering financial and tax benefits to you and your family. 
The Emily Dickinson Museum is administered by its own Board of Governors and raises most of its own funds for operations, special projects, and capital projects.  The Museum is owned by the Trustees of Amherst College and operates under the College's federal tax identification number and IRS 501(c)(3) designation: #04-2103542. 
The Emily Dickinson Museum's gift planning program is offered through Amherst College, providing sophisticated investment management and high quality gift administration. We offer a wide array of products, such as charitable remainder annuity trusts and donor-advised funds, tailored to fulfill your philanthropic goals. Please see the Museum gift planning brochure for more information.  You may also contact the development office with any questions at development@EmilyDickinsonMuseum.org.