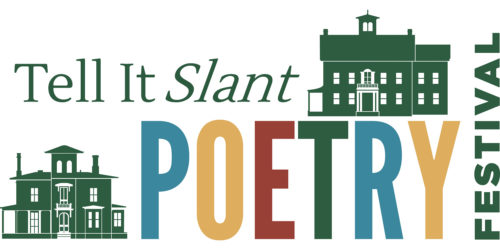 The Tell It Slant Poetry Festival (formerly the Amherst Poetry Festival) is a free event that celebrates the poetic legacy of Emily Dickinson and the contemporary creativity of the Pioneer Valley and beyond.
The Tell It Slant PoetryFestival will return September 2022!
Stay up to date on the latest news:
Emily Dickinson Museum Newsletter
About the Festival:
The Emily Dickinson Museum's Annual Tell It Slant Poetry Festival is an event with international reach that celebrates Emily Dickinson's poetic legacy and the contemporary creativity she and her work continues to inspire from the place she called home.
The Festival, which runs each September online, is named for Dickinson's poem, "Tell all the truth but tell it slant," underscoring the revolutionary power of poetry to shift our perspective and reveal new truths. Festival organizers are committed to featuring established and emerging poets who represent the diversity of the contemporary poetry landscape and to fostering community by placing poetry in the public sphere. 
The full line-up features workshops, panels, and readings, by a diverse and talented group of 35 poets from around the world. The cornerstone of the Festival, the Emily Dickinson Poetry Marathon, is an epic online reading of all 1,789 of Emily Dickinson's poems hosted by collaborators including Amherst's Jones Library, the Amherst College Frost Library, Harvard University's Houghton Library, the Folger Shakespeare Library, and the Emily Dickinson International Society.
The annual event attracts a diverse audience of Dickinson fans and poetry-lovers, including students, educators, aspiring writers, and those who are new to poetry and literary events. Past Festival headliners have included Tracy K. Smith, Tiana Clark, Tess Taylor, Ada Limón, Jericho Brown, Franny Choi, Aimee Nezhukumatathil, Paisley Rekdal, Adrian Matejka, Kaveh Akbar, Ocean Vuong, and Shayla Lawson. Due to the Museum's current restoration of Emily Dickinson's Homestead, the 2021 Festival will be an entirely virtual event and all programs are free and open to the public.
The 2021 Festival was hosted on Cadence. From this web-based platform, attendees are able to register for the Festival, build a schedule of events to attend, and engage with the Museum and other Festival-goers. 
The 2021 Tell It Slant Poetry Festival is made possible in part by support from the Massachusetts Cultural Council, Apple TV+ series Dickinson and wiip Productions, Levenger Company, the Amherst College Bicentennial, and Amherst College English Department.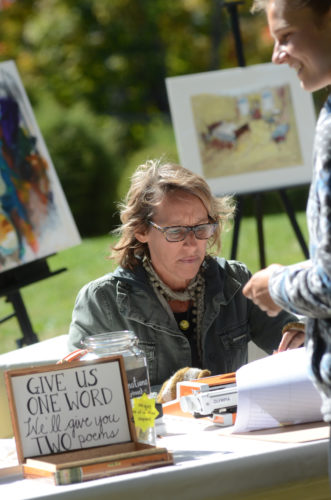 Support The Tell It Slant Poetry Festival and Honor Someone Special:
Admission to all Festival events is free, but online donations, especially those made in honor or memory of family, friends, or colleagues are heartily encouraged and vital to the future of this beloved annual event. All gifts are tax deductible and will be recognized as part of the Festival.
View Past Festival Schedules:
A special thank you to our individual supporters:
Aife Murray in memory of Eleanor Moran Evans; Amy Sayers; Ani Tuzman; Ann E Quinn; Ann E. Van Dyke; Anne Gottlieb; Anne S. Bakeman; April S Ridge in memory of Sean Mason; Aran Donovan; Arun Prakash Sanghvi; Barbara Bald; Barbara Greenbaum; Beth Curran; Bridget Boylan; Bridget McGraw; Brunilda Kondi; Carol Tierney; Carol Young; Carri Lynn George; Cassandra Whetstone; Catherine A Kreyche; Catherine Gewertz; Charlene Haskins Baumbich in celebration of Emily & Talented Cousin Diane; Charles W.V. Young; Christopher Diaz; Claudia J Pocock in memory of Ruth Bader Ginsberg; Cynthia Bargar; Cynthia Stanton in celebration; Daniel M Perrine; David Banach; David M Williams; David M. Clayton; Dawn Marar; Deborah Polansky; Deirdre Abbott Casey; Denise B Trach in celebration of Poetry; Denise O Parsons; Doris W Brogan in memory of Sandra Lamb; Dr. Eleanor Heginbotham in honor of EDIS Friends of Four Decades; E Sidney Zimet; Edith Benson and Stephen Benson; Eileen C Williams; Eleanor Kedney; Elizabeth J Kandall in memory of RBG; Elizabeth L Levin Pittel; Elizabeth Maxey; Ellen Rook; Emily Lackey in celebration of The Emily Dickinson Museum Staff; Emily Page; Erica Plouffe Lazure; Erika D. Walker in honor of Elizabeth Robinson; Erika Hendra in memory of Jason Ram; Evelyn Asher in memory of Ruth Bader Ginsburg; Evelyn Walsh in celebration of Marianne Kulla Strauss; Florencia Milito; Frances Nan; Gail M Menius in celebration of Donna Ferrin; Gerald Gotterer; Glenna Wong in memory of Justice Ruth Bader Ginsburg; Grant P Davis; Harbour Fraser Hodder; Hayley Barrett; Hayley Bernier; Hilaree L Robinson; Hope Whitby; Jac-Lynn Stark; James Gordon Fairburn; Jenna Schiappacasse; Jenny McGullam; Jessica Mink; Jessica N Bowdoin; Jessica Purdy; Jessie Lemmon; Jo Taylor; Joanne Barclay Skoller; John Valentine in celebration of Jean Valentine; Joshua T. Platt; Karen E Scott; Karen M Homer in memory of Andrew Peik; Karen Skolfield; Kate Angus; Kathleen Patricia McGraw in celebration of Bridget McGraw; Kathryn Gearheard; Kellie L. Burdg; Kiev A Rattee; Lanette Ward in honor of Emily Golden; Laura Goldstein; Laura Grzybowski in honor of Brooke Eugenia Steinhauser; Laura Johnson in celebration of Molly Shedek-Alexander; Laura Williams; Laurel Radzieski; Lesley M Tyson; Lester Hamilton; Linda Hillman; Linda M. Golden; Linda Siptroth; Lissa Pierce-Bonifaz; Lucy Abbott-Pawlishen in memory of Livingston Pangburn; Lynette Terrell; Lynn M Kincanon; Marcia Camino in memory of Michael Mason;Margaret M Stawowy in honor of Doris Stawowy; Margaret Ohrn; Marianne Worthington in honor of Jericho Brown; Marion Van Arsdell; Marisa Traylor; Mark Jackett; Martha A. Ackmann; Martha Addy Freedberg in memory of Lura Addy Young; Martina F Powell; Mary A. Smith in memory of Meredith Brook; Mary H Harris; Mary T Schneider; Maureen Regan; Meg Reynolds; Meghan Marks; Melanie Reed; Nancy M McKay in memory of Natalie Lucchese; Natalia Sperry in memory of Diantha Sperry (née Pangborn); Nathalie F Anderson; Nazare Hamilton; Nicole Pura Heath; Nora T. Maroulis in memory of Mary Carr Trebbe; Paola Vavrusova; Patrice Pinette; Paul Telles; Peggy C. Hall; Peggy O'Neil Dailey in memory of Jean R. Kline; Peter McGullam in memory of Ellen Miller; Quinn McAdam; Rachel Wysoker; Renee Hamlin; Richard D Deaton; Robert L. Gamble; Rose M Smith; Rosemary C McInnes; Sara Schlossman in honor of All the poets who keep doing the work; Sarah Harding Fox in memory of Ruth Bader Ginsberg; Sam McGullam in celebration of Elizabeth, Brooke, and Melizza—the Emily Dickinson Museum programs staff; Sarah Willburn in memory of Pansylea Willburn; Sean St. Marie; Sharon Hayes; Shelly Krehbiel; Siobhan Mulvey in celebration of Emily Dickinson; Sneha Madhavan-Reese; Sophia Nicholson; Stacy Evans; Steven John Wagner; Susan L Moore; Terry House; Tom Newman; Tricia Coscia; Vivian Zoma; Wendy Drexler; Yamini Pathak