Virtual Program.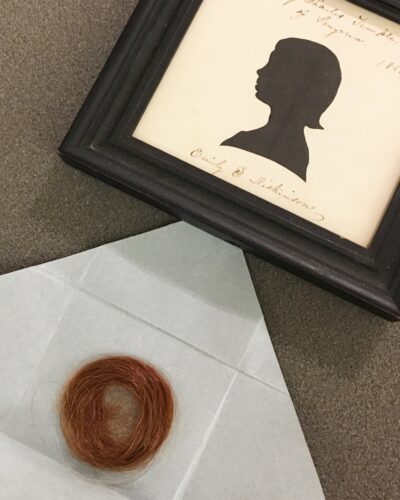 Join us for a very special behind the scenes look at the holdings of Amherst College Frost Library's Special Collections. Head of Archives and Special Collections, Mike Kelly, gives you an up close and personal look at this treasure trove of Dickinsonia, including original poetry manuscripts and letters, the famous daguerreotype of the poet as a teenager, and an original lock of the poet's hair. Hear the stories these objects can tell and learn about recent work and acquisitions to the collection. A Q&A follows the presentation.
About the facilitator: Mike Kelly is the Head of the Archives & Special Collections at Amherst College, where he oversees the school's collection of more than 80,000 rare books along with a host of archival and manuscript collections. He has worked in special collections for over twenty years; he spent eleven years as the Curator of Books at the Fales Library & Special Collections at New York University before coming to Amherst in 2009. He has held many positions within the Rare Books and Manuscripts Section of the American Library Association, including a term as RBMS Chair in 2011-12, and he is an active member of the Association of Tribal Archives, Libraries, and Museums (ATALM). He received his Master's in Library Science from the University of Texas at Austin where he spent two years as an intern at the Harry Ransom Center; he also holds an MA in English from the University of Virginia. In 2016, he was awarded the Reese Fellowship for American Bibliography and the History of the Book in the Americas by the Bibliographical Society of America for his work on the bibliography of Samson Occom, a member of the Mohegan tribe of Connecticut. He co-curated (with Carolyn Vega) the exhibition "I'm Nobody! Who Are You? The Life and Poetry of Emily Dickinson" at the Morgan Library & Museum in New York which ran from January through May 2017. In the summer of 2018, Mike co-taught the course "A History of Native American Books & Indigenous Sovereignty" in Amherst for Rare Book School. He was elected to membership in the Grolier Club in 2005 and the American Antiquarian Society in 2016. 
Support The Tell It Slant Poetry Festival and Honor Someone Special:
Admission to all Festival events is free, but online donations, especially those made in honor or memory of family, friends, or colleagues are heartily encouraged and vital to the future of this beloved annual event. All gifts are tax deductible and will be recognized as part of the Festival.
2020 Tell It Slant Facebook Video – Behind the Scenes with Emily Dickinson at the Frost Library's Special Collections