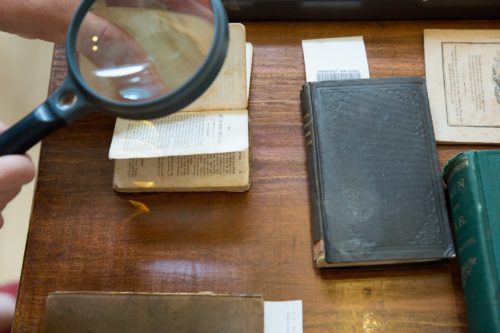 Join us for a very special behind the scenes look at the holdings of the Jones Library's Special Collections in Amherst, Massachusetts. Head of Special Collections, Cyndi Harbeson, gives you an up close and personal look at a unique Dickinson collection that places the poet within her nineteenth-century Amherst context. The holdings include approximately 7,000 items, including original manuscript poems and letters, Dickinson editions and translations, and family correspondence. Hear the stories these objects can tell and learn about recent work and acquisitions to the collection. A Q&A follows the presentation. To learn more about the Jones Library and this collection visit: https://www.joneslibrary.org/316/Dickinson-Emily#background
Space is limited for this program and available on a first-come, first-served basis. Click here to register for this program. 
About the facilitator: Cyndi Harbeson has wanted to be a librarian ever since she was a kid keeping her mother company in the Newington Public Library in Connecticut where her mother worked. But she also loved history – she has a master's of arts in History and a master's of science in library science with an archives concentration. When undergraduate at Simmons, she realized she could marry her two passions. Harbeson was a processing archivist at Appalachian State University in Boone, North Carolina before becoming Head of Special Collections at the Jones Library. She loves New England history, including Emily Dickinson, and visited the Homestead as a child.
Support The Tell It Slant Poetry Festival and Honor Someone Special:
Admission to all Festival events is free, but online donations, especially those made in honor or memory of family, friends, or colleagues are heartily encouraged and vital to the future of this beloved annual event. All gifts are tax deductible and will be recognized as part of the Festival.