The Museum is two blocks east of Amherst Center on 280 Main Street.
Emily Dickinson Museum
280 Main Street
Amherst, Massachusetts 01002
413-542-8161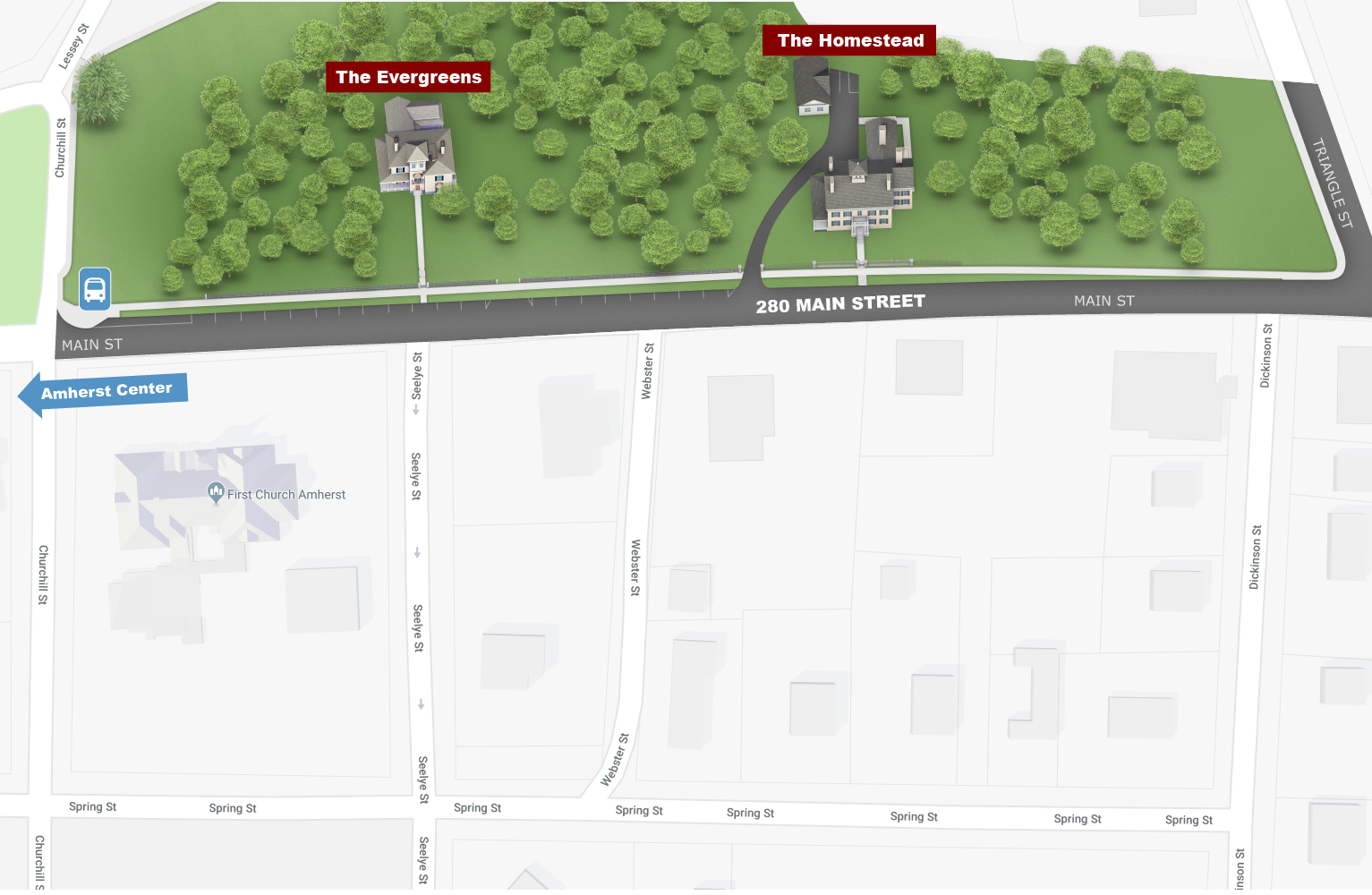 ---
Driving Directions
From Interstate 91:
Take exit 19 (if coming from the south) or exit 20 (if coming from the north) to Route 9 east. Take Route 9 east approximately five miles through Hadley to the Amherst town limit. Proceed up a long hill. At top of hill, turn left at traffic light onto South Pleasant Street. Turn right at next light onto Main Street. The Museum is 3/10 of a mile ahead on the left.
From the Boston area:
Take Massachusetts Turnpike to Exit 8 (Palmer/Ware). Take Route 32 South to Route 20 West/N Main St. in Palmer. North Main St. becomes MA-181. Follow MA-181 North for 6 miles into Belchertown. Turn left onto Route 9 West and follow into Amherst. After entering Amherst, look for a railroad overpass. Go under the overpass and make an immediate right onto Dickinson Street. Travel two blocks to the end of the street. At the traffic light, turn left onto Main Street. The Museum is ahead on the right.
OR
Take Route 2 West to Exit 16 for Route 202 South. Take Route 202 South about 15 or 20 miles, until you enter Pelham. At an intersection with flashing yellow lights, turn right onto Amherst Road (Amherst Road will eventually turn into Main Street). Go through two traffic lights. The Museum is just ahead on the right after the second traffic light.
Public Transportation
The Emily Dickinson Museum is accessible via public transportation, and a PVTA bus stop is located near the West corner of the Evergreen's property. Learn more about available options.
Parking
Please note that the Museum driveway is for dropping off passengers and for accessible parking only. All vehicles must park either at meters (many are available directly in front of the Homestead and Evergreens), in an Amherst town parking lot, located on the south side of Main Street two blocks west of the Museum, or in the town parking garage on the north side of Main Street two blocks west of the Museum.
The Town of Amherst's interactive parking map offers details about nearby parking options.