10:30AM to 12PM
Free and open to all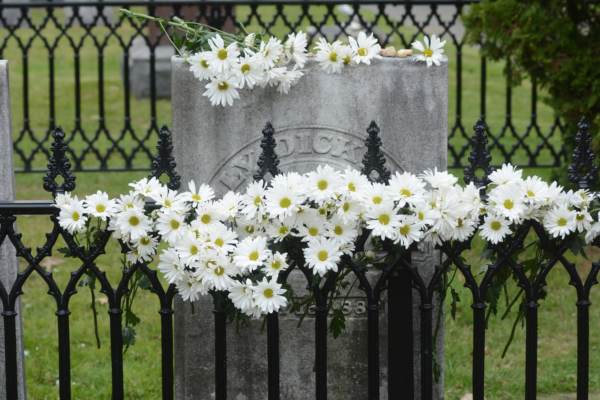 The Emily Dickinson Poetry Walk marks the anniversary of the poet's death (on May 15, 1886) with readings of her poetry at historic sites around Amherst. This spring, the Walk will explore the poet's many sources of inspiration, including the arts, nature, relationships and cherished books. In homage to Dickinson's role in sparking our imaginations, we will also read a contemporary poem influenced by her life and work at each stop.
The Poetry Walk begins at 10:30 a.m. on the Homestead lawn and proceeds on foot through Amherst, stopping at sites significant in Dickinson's life, and concluding at the poet's grave in West Cemetery. At the cemetery, participants are invited to join in the traditional light-hearted lemonade toast to the Poet and to read a favorite Dickinson poem or original work in memory of the poet. 
The stops will be announced on this page in advance of the walk. Latecomers are welcome to join the tour at any stop. This year's selection of poems will be read by volunteers from the audience. Participants may wish to bring their own copy of Dickinson's poems to follow along. All who would like to read should arrive at the Homestead at 10:15 a.m. to receive an assignment; poems will be distributed on a first-come, first-served basis.
Participants are encouraged to carpool. Wheelchair accessible parking is available at the Homestead; all other vehicles are asked to park on the street or use town parking, a short walk from the Museum. For more information about accessibility on the Walk, call 413-542-2034. The Poetry Walk takes place rain or shine.