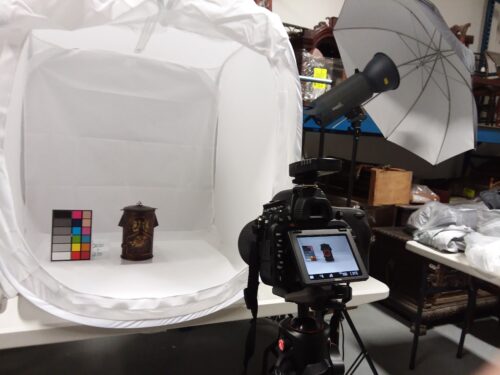 The Emily Dickinson Museum's collection contain more than 8,000 artifacts, including family objects such as artwork, textiles, furniture, dinnerware, and other household items.
In 2019, the Emily Dickinson Museum was awarded a major grant by the Institute of Museum and Library Services to inventory and catalogue the entirety of its collections for the first time. This project will improve the management and accessibility of the collections, strengthening the museum's interpretation and enhancing Dickinson research. Over the course of three years, every single item in the collections will be documented and photographed, and these records will eventually be published in a publicly accessible, online database.
Any use of these images must be approved by the Emily Dickinson Museum.
Please contact us at: Info@EmilyDickinsonMuseum.org
The Institute of Museum and Library Services is the primary source of federal support for the nation's libraries and museums. They advance, support, and empower America's museums, libraries, and related organizations through grant making, research, and policy development. Their vision is a nation where museums and libraries work together to transform the lives of individuals and communities. To learn more, visit www.imls.gov.
To view Dickinson's manuscripts, visit https://www.edickinson.org/
For information on other Dickinson repositories:
Houghton Library, Harvard University: https://library.harvard.edu/collections/emily-dickinson-collection
Amherst College Special Collections: https://www.amherst.edu/library/archives/holdings/edickinson
Brown University Library: https://library.brown.edu/collatoz/info.php?id=33