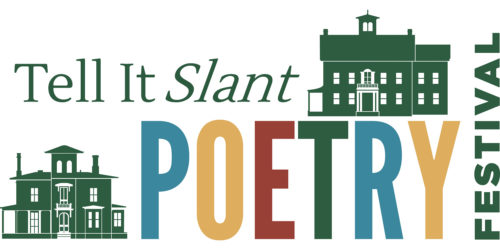 Produced by the Emily Dickinson Museum, the Tell It Slant Poetry Festival celebrates the poetic legacy of Emily Dickinson and the contemporary creativity she continues to inspire from the place she called home.
The Festival's name "Tell It Slant", was selected in homage to Dickinson's poem, "Tell all the truth but tell it slant." This title underscores the revolutionary power of poetry to shift our perspective and reveal new truths. The Tell It Slant Poetry Festival remains committed to featuring and serving established and emerging poets who represent the diversity of the flourishing contemporary poetry scene, and to fostering community by placing poetry in the public sphere. To see our 2022 Festival schedule click here.
This year's Festival will be hybrid, with events happening in-person at the Museum as well as online. We invite you to "dwell in possibility" and submit your most inventive proposals for audience-centered workshops. Submissions for virtual programs should be for live, synchronous content only. 
The Steering Committee especially welcomes the following:
Submissions from groups of 2 – 5 facilitators

Submissions that engage young attendees and/or those new to poetry

Submissions that creatively encourage audience participation or that foster a sense of community or space
Honoraria of $250 are provided per event.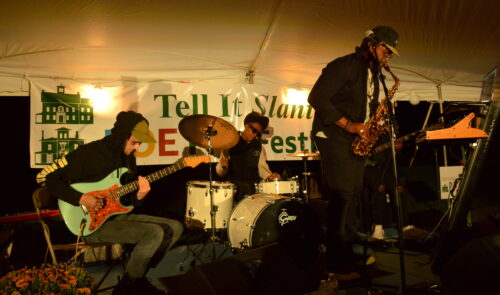 Seeking proposals for the following IN-PERSON AND VIRTUAL program slots to be scheduled September 25 – October 1 (Individuals may submit multiple forms if proposing more than one program):
IN-PERSON OR VIRTUAL WORKSHOPS:
Public poetry workshops are typically 60- to 90-minutes long. Workshops must be interactive and generative.
Virtual workshops must be adaptable for large virtual audiences of around 200.
EDUCATOR WORKSHOPS:
Workshops intended for educators teaching grades 6-12, with a focus on reading and/or writing poetry. Presenters should have facilitation experience and include a sample lesson outline. Virtual format preferred, with in-person considered.
Submission Guidelines:
Only submissions made using the online form will be considered. To complete the online form, click on the "Submit your proposal" button below. There is no fee to submit proposals.

To complete your submission, please also upload the following to this

Dropbox folder

The resumes/CVs of all presenters.

If appropriate, up to 3 sample poems per group member.

Any desired links, audio, or video files of performances or facilitation. 

High resolution headshots of all presenters. DPI 300 or minimum 1080 pixels (if you don't have a professional camera, an unedited selfie on a smart phone will fit those requirements)

All your materials as listed above should be titled by your PROGRAM TITLE. You may upload materials as one zipped file or individually. We can accept .pdf, .doc, .doc(x) files. If applicable, you may upload images in .png, .jpg, or .gif form and audio files in .mp3, .aac, or .wav form.

Selected facilitators will be notified Thursday, June 1st and will be asked to sign a letter of agreement confirming their participation in the Festival.

Submissions Due: Thursday, May 11th at 11:59pm ET

.
Submissions will be judged on the following:
Originality – Is your idea bold and intriguing? Will it offer something new to our Festival?

Quality – Does the submission reflect thoughtful preparation? How are you uniquely qualified to facilitate this program?

Audience – Have you clearly outlined participatory elements? How does your proposal contribute to community-building for the Tell It Slant Poetry Festival? 

Special consideration will be given to Massachusetts-based facilitators.
Questions? Email us at edmprograms@emilydickinsonmuseum.org