DATE: March 8, 2015
TIME: 3 pm
LOCATION: Amherst Woman's Club, 35 Triangle Street, Amherst, MA
COST: Free
The Emily Dickinson Museum and the Amherst Woman's Club are pleased to welcome novelist and screenwriter William Nicholson for a conversation about his new novel, Amherst,on Sunday, March 8, at 3 pm.
Nicholson will be joined in the conversation by Polly Longsworth, author of Austin and Mabel: The Amherst Affair and Love Letters of Austin Dickinson and Mabel Loomis Todd, and moderator Christopher Benfey. It will be held at the Amherst Woman's Club at 35 Triangle Street, across the street from the Emily Dickinson Museum. The conversation is free and open to the public. 
Amherst is a reflection on life and love seen through the historical lives of Emily Dickinson, her brother Austin, and his lover Mabel Loomis Todd and the fictional moderns Alice, Jack, and Nick. Nicholson's story takes place in the Homestead and the Evergreens (now both part of the Emily Dickinson Museum), and the former Alice Maud Hill house, now the home of the Amherst Woman's Club.  
"William Nicholson's visit is a wonderful opportunity for cooperation between the modern day organizations occupying the houses that play such large parts in the book," said Amherst Woman's Club President Cathryn Lombardi. 
Emily Dickinson Museum Executive Director Jane Wald agreed. "William Nicholson's Amherst is a delightful blend of lively imagination and deeply researched historical detail. We hope his novel sparks new interest in the Dickinson family and their dramatic stories among his readers."
INTERVIEW WITH WILLIAM NICHOLSON ABOUT AMHERST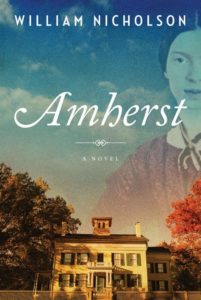 In addition to reading excerpts from Amherst, Nicholson will speak with Longsworth and Benfey about the inspiration, research, and experience of writing the novel.
"It's in some ways my love letter to the poet Emily Dickinson, who I first encountered over forty years ago," Nicholson wrote on his blog. "Her poems shock and thrill me as much today as they did then." 
He credits Longsworth's Austin and Mabel for deepening his interest in the Dickinson family, especially the adulterous relationship between Austin and Todd, who would go on to play an essential role in the publication of Dickinson's poetry and letters (and who was influential in founding the Amherst Woman's Club, among other organizations). 
"Austin Dickinson's passion for Mabel Todd is fascinating because it was so defiant of all convention," wrote Nicholson.  
Amherst will be available for purchase during the event from Odyssey Books. For more information about the reading, call 413-542-2034, email edmprograms@EmilyDickinsonMuseum.org or visit our website. 
About William Nicholson
William Nicholson was born in 1948, and grew up in Sussex and Gloucestershire. He was educated at Downside School and Christ's College, Cambridge, and then joined BBC Television, where he worked as a documentary filmmaker. There his ambition to write, directed first into novels, was channeled into television drama. His plays for television include Shadowlands and Life Story, both of which won the BAFTA Best Television Drama award in their year. In 1988 he received the Royal Television Society's Writer's Award. His first play, an adaptation of Shadowlands for the stage, was Evening Standard Best Play of 1990, and went on to a Tony Award winning run on Broadway. He was nominated for an Oscar for the screenplay of the film version, which was directed by Richard Attenborough and starred Anthony Hopkins and Debra Winger.
Since then his film credits include: Sarafina; Nell; First Knight; Grey Owl; Gladiator (as co-writer, for which he received a second Oscar nomination);  Elizabeth: the Golden Age; Les Miserables; Mandela: Long Walk to Freedom; Unbroken; and Everest. He has written and directed his own film, Firelight, and four further stage plays: Map of the Heart; Katherine Howard; The Retreat from Moscow (which ran for five months on Broadway and received three Tony Award nominations); and Crash.
His novels include The Society of Others (2004); The Trial of True Love (2005); The Secret Intensity of Everyday Life (2009); All the Hopeful Lovers (2010); The Golden Hour (2011); Motherland (2013); and Reckless (2014).
His fantasy novel for older children, The Wind Singer, won the Smarties Prize Gold Award on publication in 2000, and the Blue Peter Book of the Year Award in 2001. Its sequel, Slaves of the Mastery, was published in 2001, and the final volume in the trilogy, Firesong, in 2002. His second sequence of fantasy novels is called The Noble Warriors, and includes Seeker (2005); Jango (2006); and Noman (2007). A novel for teens, Rich and Mad, was published in 2010.
About Polly Longsworth
In addition to Austin and Mabel, Polly Longsworth is the author of The World of Emily Dickinson: A Pictorial Biography. She has published numerous seminal articles about Emily Dickinson and has lectured widely on the subject. She is currently working on a major biography of the poet. Longsworth has been a member of the Emily Dickinson Museum Board of Governors since its establishment in 2003 and was its founding chair. "Replenishing the Shelves," a project to recreate the Dickinson family libraries, was initiated by the board in honor of her many contributions to the creation and well-being of the Emily Dickinson Museum.

About Christopher Benfey
Christopher Benfey is Andrew W. Mellon Professor of English and Acting Dean of Faculty at Mount Holyoke College. A well known scholar of Emily Dickinson, Benfey is the author of four highly regarded books about the American Gilded Age: A Summer of Hummingbirds: Love, Art, and Scandal in the Intersecting Worlds of Emily Dickinson, Mark Twain, Harriet Beecher Stowe, and Martin Johnson Heade (2009); The Double Life of Stephen Crane (1992); Degas in New Orleans (1997); and The Great Wave: Gilded Age Misfits, Japanese Eccentrics, and the Opening of Old Japan (2003).