Virtual Program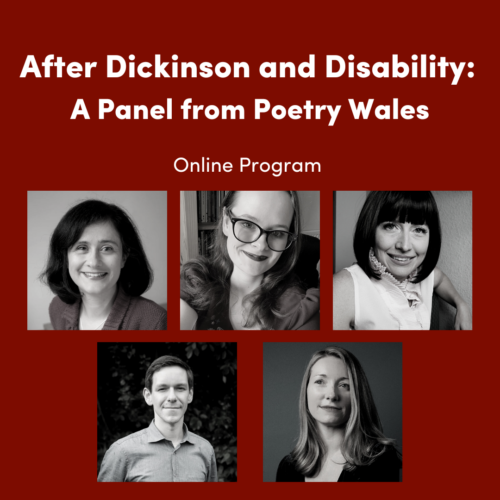 Part of the 2022 Tell It Slant Poetry Festival
Some readings of Dickinson's poetics focus negatively on her potential writings about disability (from agoraphobia to Bright's Disease), but this panel follows Dickinson critic Michael Davidson who takes a more radical Disability Studies stance, asking what gifts might be found in experiences of disability. This panel, organized by Poetry Wales editor Zoe Brigley, foregrounds work around disability and the experience of pain or chronic illness, featuring international poets who recently appeared in Poetry Wales' special issue including Cy. Jillian Weise, Claudine Toutoungi, Hannah Hodgson, and Samuel Tongue.
---
About the poets:
Zoë Brigley is the author of three books of poetry published by Bloodaxe: Hand & Skull (2019), Conquest (2012), and The Secret (2007), and recently published chapbooks with Broken Sleep: Aubade After A French Movie (2020), and Verve: Into Eros (2021). She also wrote a collection of nonfiction essays Notes from a Swing State (Parthian 2019) and co-wrote a pamphlet of creative nonfiction with Kristian Evans, Otherworlds: Writing on Nature and Magic (Broken Sleep 2021). Brigley is Assistant Professor in English at the Ohio State University where she produces an anti-violence podcast: "Sinister Myth". She won an Eric Gregory Award for the best British poets under 30, was Forward Prize commended, and listed in the Dylan Thomas Prize.
The Cyborg Jillian Weise is a regular writer for the New York Times and author of Cyborg Detective (Boa 2019) and An Amputee's Guide to Sex (Soft Skull reprint 2017).
Hannah Hodgson is an English writer and activist living with a terminal illness; she has worked with BBC Arts and Teen Vogue, received a prestigious Princess Diana Legacy Award, and recently published her debut collection 162 Days (Seren 2022).
Claudine Toutoungi is an award-winning playwright and poet, author of Two Tongues (Carcenet 2020), and her bittersweet drama about a relationship sparked in an ocular prosthetics clinic, Slipping, was selected for New York's Lark Play Centre's international HotINK series.
Scotland-based writer, Samuel Tongue, also explores sight in his poetry; he is author of Sacrifice Zones (Red Squirrel 2020), was poetry editor at the Glasgow Review of Books for six years and also co-edited New Writing Scotland for 3 issues.
---
Support The Tell It Slant Poetry Festival and Honor Someone Special:
Admission to all Festival events is free, but online donations, especially those made in honor or memory of family, friends, or colleagues are heartily encouraged and vital to the future of this beloved annual event. All gifts are tax deductible and will be recognized as part of the Festival.
---