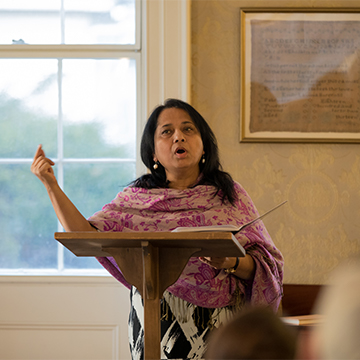 During the pandemic, the Emily Dickinson Museum is celebrating monthly Amherst Arts Night Plus with remote poetry readings every first Thursday.
In June we feature poems from Poetry In The Pandemic, a crowd-sourced poetry project organized by Haoran Tong. The reading will feature staff, students, and faculty of Amherst College, and will last approximately 40 minutes. This program is dedicated to graduating seniors everywhere, but especially to the Museum's two graduating student employees, Anna Plummer and Jane Bragdon.
This month's readers are Haoran Tong, Kalidas Shanti, Eliza Brewer, Kiera Alventosa, Brenna Macaray, and Anna Plummer
About the project:
The Covid-19 pandemic has changed the way we live, socialize, and communicate with nature. Ever since the outbreak, stay-at-home measures have been imposed to protect the vulnerable community for the sake of public health. Faces are masked, interactions are distanced, routines are interrupted. In the process of containing the virus, hope emerges from the darkness as the curves flatten, thanks to the heroic essential workers and generous community members. However, many people also suffer from shocking news, lost lives, and fractured families. 
Amidst uncertainty and anxiety, poetry brings us hope, inspiration, and reflection. If the consoling and unifying power of poetry is forgotten in ordinary times, it is becoming ever more influential and desirable in trying times. On Instagram, reading a poem per day has become a cure for boredom and loneliness. When we read and write poetry, we do so to understand and connect with each other. Poetry reminds us of our inner qualities of empathy, unity, and freedom. 
To encourage the members of the Amherst community to lead a poetic life and overcome the difficult circumstances, Haoran Tong '23 creates a platform of poetry reading and writing. Alumni, faculty, staff, students, and families of Amherst College share their thoughts and expressions with others by submitting poems they have read or written during the pandemic. They may also provide a brief explanation of how they resonate with the poems in the context of the pandemic."
About Haoran Tong:
Haoran Tong '23, the organizer of the "Poetry in the Pandemic" project, is a first-year student at Amherst College, MA. His poetic journey started at the age of 4 in Beijing, China, where he was born and bred. He enjoys the works of Emily Dickinson, Du Fu, William Butler Yeats, Rabindranath Tagore, Adunis, Jorge Luis Borges, and Xi Chuan. As a member of the Poets Unite Worldwide Association, he wants to promote intercultural exchange by exploring the possibilities of poetic form and expression. Besides poetry, he is a lover of choral singing, physics, and comparative legal studies.