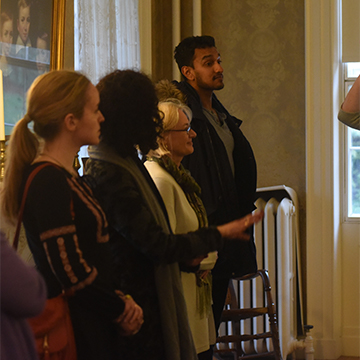 Monthly Amherst Arts Night Plus at the Emily Dickinson Museum celebrates contemporary art and poetry in our historic setting. From 5:00 – 8:00 p.m., view the pop-up, contemporary art exhibition in the Homestead by our monthly featured artist. Poets, writers, and performers of any kind are welcome to share work at our open mic, which begins at 6:00 p.m. Stay after the open mic for the featured reader of the month. Open mic sign-ups are between 5:00 and 6:00 p.m. This program is free and open to the public.
Featured Poets: Terry Johnson and Rebecca Hart Olander
Terry S. Johnson, a forty year resident of Amherst, began her career as a concert harpsichordist before finding her true calling as a sixth grade public school teacher. In the last two decades, she also discovered the challenges and joys of writing poetry. She received a Master of Fine Arts from Vermont College and has published extensively in many journals and anthologies. Coalescence, her first poetry collection, won an honorable mention award in the New England Book Festival. In Terry's second book entitled Plunge (Off the Common Books, 2019) , she explores her father's war time experiences as a pilot shot down over northern Italy as well as her journeys to meet his saviors and her namesakes, gradually becoming a member of village life.  Gracefully weaving memory, research and first-hand experience, Terry creates an Italian cultural feast employing both lyric and narrative poetry. 
Rebecca Hart Olander is a poet, teacher, and editor based in Western Massachusetts. She holds an MFA in Writing from Vermont College of Fine Arts and her poetry has appeared recently in Crab Creek Review, llanot Review, Plath Poetry Project, Solstice, SWWIM Every Day, and Yemassee Journal, among others. Rebecca won the 2013 Women's National Book Association poetry contest.  In 2019 her poem "Wellfleet," published in Parks & Points, was nominated for a Pushcart Prize. She is the editor/director of Perugia Press, a small press publishing first and second books of poetry by women. Her chapbook, Dressing the Wounds, was published in 2019 by Dancing Girl Press and her full-length poetry collection Uncertain Acrobats is forthcoming from Cavan Kerry Press in 2021.
Out of an abundance of caution, we will be cancelling our public programs through April 30, 2020. 
We understand this schedule change may affect previous plans. We apologize for any inconvenience and look forward to welcoming you to the Emily Dickinson Museum as soon as we are able.