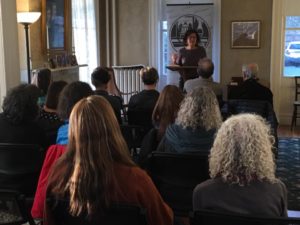 Join us at the Emily Dickinson Museum during Amherst Arts Night Plus for our monthly Open Mic. Poets, writers, and performers of any kind are welcome! Come early to view the pop-up, contemporary art exhibition in the Homestead by our featured artist. The open mic begins at 6:00 p.m. and will be followed by this month's featured readers. Those who would like to share their work should arrive between 5:00 and 6:00 p.m. to sign up. 
Featured Artist: Paintings and film are on display from 5-8PM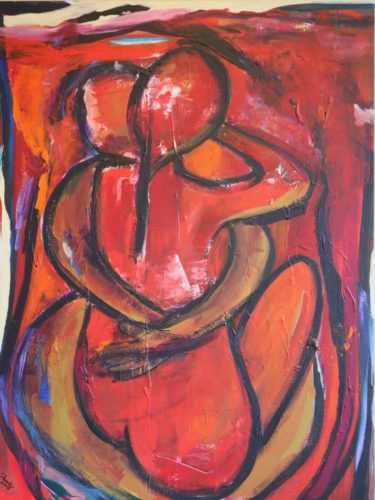 Barbara Zecchi, Professor and Director of the Film Studies Program at the University of Massachusetts Amherst, is a film scholar, film critic, and video-essayist. Born in London, and raised and educated in Italy, she grew intellectually in Spain and in the United States. She received a PhD from the University of California Los Angeles, and joined the Program of Spanish and Portuguese Studies at UMass after teaching at different universities in Europe and in the U.S. (such as Carlos III University of Madrid, California State University, and the Johns Hopkins). Her research and teaching interests include Spanish, Catalan and Latin American cinemas, feminist film theory, film adaptation theory, gender studies and aging studies, and the use of technology in the humanities. Both in her scholarly publications and in her creative work (video-graphic essays, paintings, collages and photographs) she explores and deconstructs gender-based stereotypes and discrimination. She is the author of the books La pantalla sexuada ("The Gendered Screen," Cátedra 2015), and Desenfocadas ("Women Out of Focus," Icaria 2014); and editor or co-editor of volumes such Tras las lentes de Isabel Coixet (2017), Gynocine: Teoría de género, filmología y práxis cinematográfica (2013), Teoría y práctica de la adaptación fílmica (2011),  among others. She has lectured and presented her digital work extensively in the United States, Canada, Europe, and Latin America. Her fascination with Italian futurist art and Venetian glassblowing (rulli) is evoked and persistent in her creative work. She inherited this fascination from her grandfathers. Antonio specialized in the legendary tradition of Venetian glassblowing. Many of his filigree stained glass windows can be still admired in several villas in Veneto countryside. Umberto was a renowned shoe designer who created futurist shoe models currently shown at the D'Annunzio Museo in Arezzo, The Vittoriale degli italiani of Gardone Riviera, and the Metropolitan Museum of Art in New York. 
Barbara Zecchi is the co-founder and vice-president of the international research network CinemAGEnder and the founder and director of the Digital Humanities Project "Gynocine: Feminisms, Genders and Cinemas." She is the founder and co-curator of the UMass Catalan Film Festival, and collaborates in the organization of the UMass Latin American Film Festival. She is Associate Member of the Film Academy of Spain (Academia de las Artes y las Ciencias Cinematográficas de España).
Featured Readers: Featured readers follow the open mic
"Emily Dickinson In Translation": During November's Arts Night, enjoy a presentation of multi-lingual readings and short discussions on the practice of translating the poet's words, presented by the Translation Center of the University of Massachusetts Amherst. The Center is celebrating its 40th anniversary this year. A unique enterprise that combines business services with academics, the Center offers translation, interpreting, workshops, language consulting, and much more to a variety of clients including small businesses, multinational corporations, museums, law firms, hospitals, NGOs, filmmakers, advertising firms, educational institutions, and individuals.