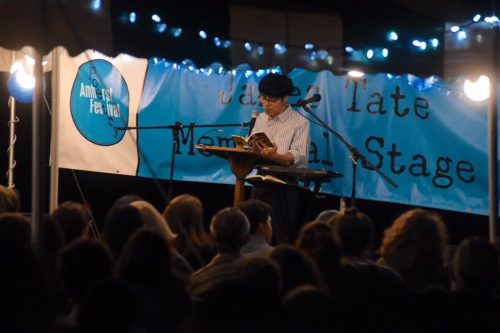 Produced by the Emily Dickinson Museum, with support from the Community Foundation of Western Massachusetts, Beveridge Family Foundation, Amherst Business Improvement District, Massachusetts Cultural Council, and Jones Library, the Amherst Poetry Festival celebrates the poetic legacy of Emily Dickinson and the contemporary creativity of the Pioneer Valley and beyond.
Past year's festival events have included cemetery tours, film screenings in the garden, writing workshops, poetry discussions, poetry readings, live performances, and the Emily Dickinson Poetry Marathon, an epic one-day reading of all 1,789 of Dickinson's poems. 
The Emily Dickinson Museum is now accepting proposals for our seventh annual Amherst Poetry Festival!
The Steering Committee seeks proposals for audience-centered workshops, panel discussions, and participatory programs for the Amherst Poetry Festival in September, 2019. The Steering Committee especially welcomes the following:
Submissions from groups of 2 – 5 poets
Submissions that engage young attendees and those new to poetry
Submissions that involve hands-on components
A $200 honorarium will be provided per session. Session facilitators must pay for their own travel and lodging expenses. Selected facilitators will be notified before August 9, and will be asked to sign a letter of agreement confirming their participation in the Festival.
For more information or to submit a proposal, please view our submission guidelines.