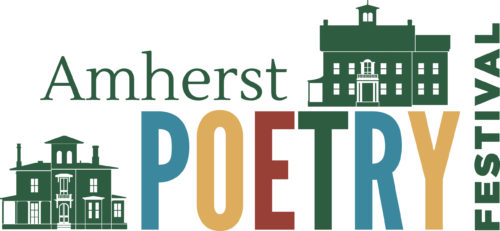 Produced by the Emily Dickinson Museum, with support from the Community Foundation of Western Massachusetts, Beveridge Family Foundation, Amherst Business Improvement District, and Massachusetts Cultural Council, the Amherst Poetry Festival celebrates the poetic legacy of Emily Dickinson and the contemporary creativity of the Pioneer Valley and beyond.
Check back soon for more information on admissions and how to purchase festival buttons!
Schedule of Events
Thursday, September 19
5:00 p.m. – 9:00 p.m.: Festival Kick-off at the Amherst Block Party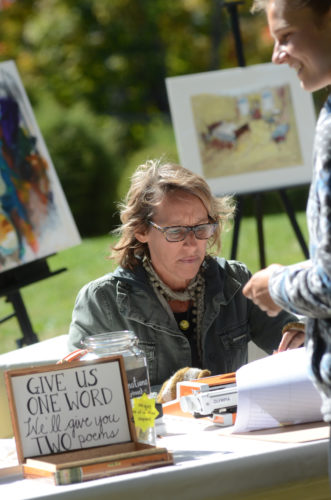 Stop by the Amherst Poetry Festival tent in downtown Amherst to help us kick off the Festival! Pick up your Festival brochure and buttons, and check out the poetry vending machine and type-writer poetry activity run by our friends at Attack Bear Press!
7:00 p.m.: Donuts and Death: A Baker's Dozen of Emily Dickinson's Most Depressing Poems 
Take a 40-minute tour around West Cemetery, where we'll recite Emily Dickinson's most depressing poems, learn the history behind her darkest work, and hear stories of others buried nearby. Each participant will receive a free gingerbread doughnut from Glazed Doughnut Shop on North Pleasant Street.
Location: Amherst's West Cemetery 
Directions: Doughnuts and Death will begin at the gate to West Cemetery, which can be accessed by walking down the alley to the left of Toy Box at 201 North Pleasant Street. 
Facilitator: Mike Medeiros 
9:00 p.m.: Slam Poetry Contest 
Watch the slam teams of the Northbeast poetically duke it out at Amherst Works during this contest for Amherst Poetry Festival Slam champion!
Location: AmherstWorks
Competing teams: Northampton Poetry, organized by Tara Jean Bernier, and Boston Poetry Slam, organized by Simone Beaubien, Worcester Slam organized by the Dirty Gerund Poetry Show. Check back soon for more competing teams.
More about the hosts: Catherine Weiss is a poet, illustrator, and arts organizer. They have competed at national poetry slams and toured regionally. Their poetry has been published or is forthcoming in Tinderbox, Up the Staircase Quarterly, The Mantle, Counterclock, Noble/Gas Quarterly, and elsewhere. Weiss is also the founder of Florence community arts space, Endopolis Poetry Room. This event will also be hosted by Cori Stenning-Barnes.
Friday, September 20
12:00 p.m. – 2:00 p.m.: Emily Dickinson Poetry Discussion Group 
Join us at the Center for Humanistic Inquiry in the Amherst College Library for lively conversation about Emily Dickinson's poetry and letters. This month's discussion will center on poems that highlight the bee as protagonist or speaker. Because of her fascination with botany and the garden, Dickinson constantly transformed the figure of the bee. Bees are viewed in various guises, including artists, pirates, gentle or jealous lovers, and even cheerful correspondents. This program will unpack how a poet (or anyone) can view one creature through many lenses.
Cost: $12 Friends, $15 general public
E-mail edmprograms@emilydickinsonmuseum.org in advance to receive a list of poems for discussion.
Facilitator: Susan Goldwitz is an award-winning poet who, after teaching literature on the university level, has expanded her expected circumference to include a new passion, beekeeping, which she has practiced for eight years. She is continually inspired by Emily Dickinson's ability to view this one little creature in many aspects.
Amherst Regional High School Workshop: "Like a Good Song, Poetry Gets Stuck in Your Head"
Looking at unforgettable poems, students in this workshop will take examples of memorable verse as inspiration for their own writing. Participants will experiment with craft by writing "covers" of famous poems that have gotten stuck in their own heads. By identifying what these poems do on a technical level and recasting them in their own unique style, participants will learn how to make poetry work for their own voices. (Please note: this program is not open to the public.)
Location: Amherst Regional High School
More about the facilitator: Jay Ritchie is the author of the poetry collection Cheer Up, Jay Ritchie (Coach House Books, 2017). He is pursuing an MFA in Poetry at UMass Amherst, where he has won the Skolfield/Goeckel Award for Poetry as well as the Deborah Slosberg Memorial Award for Fiction. His work has been performed on CBC Radio, at the Newmarket National 10-minute Play Festival, and at the Phi Centre by Camille Poliquin of electronic duo Milk & Bone.
Springfield Renaissance High School Workshop with Adrian Matejka
Please note: this program is not open to the public.
3:00 p.m. – 5:00 p.m.: A Masterclass with [PANK] and The Common 
Two poetry editors of leading literary magazines share strategies and prompts for writers.
Location: The Powerhouse
More about the facilitators: Jessica Fischoff is the Editor and Owner of [PANK], author of the little book of poems, The Desperate Measure of Undoing (Across the Margin, 2019), and editor of the upcoming Pittsburgh Anthology (Dostoyevsky Wannabe, 2020). Her thoughts on editing appear in Best American Poetry and The Kenyon Review. Her writing appears in Diode Poetry Journal, The Southampton Review, Prelude, Fjords Review, and Yemassee.  Elizabeth Witte is a writer and editor based in western Massachusetts. She is a recipient of the Massachusetts Cultural Council's Artist Fellowships in Poetry whose work has appeared in a variety of journals, including Prelude, Word For/ Word, and Denver Quarterly; her chapbook Dry Eye is available from Dancing Girl Press. She is Associate Editor of The Common and Director of The Common in the Classroom.
7:00 p.m.: Friday Evening Reading with Adrian Matejka and Paisley Rekdal
Our first 2019 Festival headliners read under the stars. Don't miss this magical night in Emily Dickinson's garden! A book signing follows the reading.
Location: The Emily Dickinson Museum
Paisley Rekdal is the author of a book of essays, The Night My Mother Met Bruce Lee;  the hybrid photo-text memoir, Intimate; and five books of poetry: A Crash of Rhinos; Six Girls Without Pants; The Invention of the Kaleidoscope; Animal Eye, a finalist for the 2013 Kingsley Tufts Prize and winner of the UNT Rilke Prize; and Imaginary Vessels, finalist for the 2018 Kingsley Tufts Prize and the Washington State Book Award. Her newest work of nonfiction is a book-length essay, The Broken Country: On Trauma, a Crime, and the Continuing Legacy of Vietnam. A new collection of poems, Nightingale, which re-writes many of the myths in Ovid's The Metamorphoses, was published in spring 2019.  Appropriate: A Provocation, a book-length essay examining cultural appropriation, is forthcoming from W.W. Norton. Her work has received a Guggenheim Fellowship, the Amy Lowell Poetry Traveling Fellowship, a Fulbright Fellowship, a Civitella Ranieri Residency, a National Endowment for the Arts Fellowship, Pushcart Prizes (2009, 2013), Narrative's Poetry Prize, the AWP Creative Nonfiction Prize, and various state arts council awards. Her poems and essays have appeared in The New York Times Magazine, American Poetry Review, The Kenyon Review, Poetry, The New Republic, Tin House, the Best American Poetry series (2012, 2013, 2017, 2018, 2019), and on National Public Radio, among others.  She teaches at the University of Utah, where she is also the creator and editor of the community web project Mapping Salt Lake City. In May 2017, she was named Utah's Poet Laureate and received a 2019 Academy of American Poets' Poets Laureate Fellowship. 
Adrian Matejka was born in Nuremberg, Germany and grew up in Indianapolis, Indiana. He is a graduate of Indiana University and the MFA program at Southern Illinois University Carbondale. He is the author of The Devil's Garden (Alice James Books, 2003), which won the New York/New England Award, and Mixology (Penguin, 2009), a winner of the 2008 National Poetry Series. Mixology was also a finalist for an NAACP Image Award for Outstanding Literature. His third collection, The Big Smoke (Penguin, 2013), focuses on Jack Johnson, the first African American heavyweight champion of the world. The Big Smoke was awarded the 2014 Anisfield-Wolf Book Award and was also a finalist for the 2013 National Book Award, the 2014 Hurston/Wright Legacy Award, and the 2014 Pulitzer Prize in poetry. His most recent book, Map to the Stars, was published by Penguin in 2017. Among Matejka's other honors are the Eugene and Marilyn Glick Indiana Authors Award, the Julia Peterkin Award, a Pushcart Prize, and fellowships from the Bellagio Center, the Guggenheim Foundation, the Lannan Foundation, and a Simon Fellowship from United States Artists. He teaches at Indiana University in Bloomington and is Poet Laureate of Indiana. 
Saturday, September 21
6:00 a.m. – 9:30 p.m.: The Emily Dickinson Poetry Marathon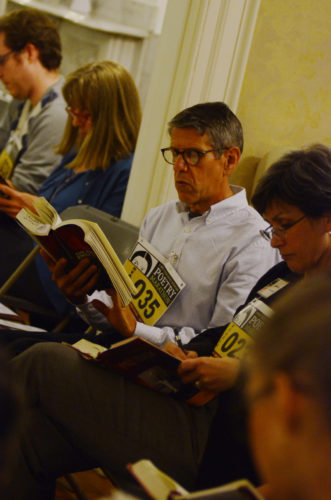 Our epic, one-day reading of all 1,789 poems of Emily Dickinson! Participants are welcome to stay for the whole event, or stop by throughout the day. This event will move throughout the day. From 6:00 to 10:30 a.m., the Marathon will take place in the Homestead parlors. From 10:30 a.m. to 4:00 p.m., the Marathon will take place under the Main Stage tent on the Museum lawn. At 4:00 p.m., the Marathon will move back to the parlors. 
10:00 a.m. – 11:30 a.m.: Drawing Poems and Writing Pictures: A Workshop for Children and Adults
In this family-friendly workshop, multilingual poet María Luisa Arroyo will warmly welcome and guide participants to draw pictures and write new poems. Multicultural and multilingual children's books, such Francisco Alarcón's Poems to Dream Together, will inspire participants of all ages and stages to create images and poems using their family or heart language(s). At the end, María Luisa will encourage participants to share their new work. 
Location: Jones Library
More about the facilitator: Born in Manatí, PR and raised in Springfield, MA, María Luisa Arroyo was educated at Colby (BA),Tufts (MA), and Harvard (ABD). Her poems appear in many journals, including The Common & Calyx. Destierro Means More than Exile, her latest chapbook, is her homage to thirty-two women poets. In recognition of her community workshops and readings, she was named Springfield's Poet Laureate from 2014 to 2016 and was a 2016 NEPR Arts and Humanities Awardee.
10:00 a.m. – 11:30 a.m.: "I See What You're Saying": A Poetry and Visual Arts Collaboration Workshop
If a poet creates pictures with words, and an artist tells stories with images, what narrative possibilities emerge when the two work in tandem? This dynamic workshop will share inspiration, strategies, and prompts for creating imagery in response to words, creating words in response to imagery, and experimenting with the real-time collaborative high jinks of mixing the two. Participants will look at highlights from landmark collaborations by Frank O'Hara and Larry Rivers, Anne Carson and Bianca Stone. This workshop is perfect for all levels in either writing or visual art. Participants will leave feeling electrified by new ways of thinking and creating and with an original visual/verse piece! 
Check back soon for location information for this event
More about the facilitators: Margot Douaihy, PhD, is the author of Scranton Lace (Clemson University Press, 2018), the Lambda Literary Finalist Girls Like You (Clemson University Press, 2015), and I Would Ruby If I Could (Factory Hollow Press, 2013). Her book Bandit/Queen: The Runaway Story of Belle Starr, is forthcoming with Clemson University Press in 2020. Her poetry has been featured in PBS NewsHour, The Madison Review, The South Carolina Review, and The Tahoma Review. Bri Hermanson is a scratchboard illustrator whose clients include Houghton Mifflin Harcourt, Tor Books, SKYY Vodka, Pentagram, Xerox, Philanthropy Magazine, the American Bar Association, Southern Poverty Law Center, Guitar World, Grand Ten Distillery, and Complex Magazine. She also serves as the president of ICON11, The Illustration Conference. Her work has been recognized by the Society of Illustrators, American Illustration, Creative Quarterly, Luerzer's Archive, Applied Arts, the Altpick Awards, the Society of Illustrators of Los Angeles, and the 3×3 Directory.
12:00 p.m. – 2 p.m.: Calling All Poets! A Family Writing Workshop
Spend the afternoon writing poetry in Emily Dickinson's garden. Led by children's author and Emily Dickinson Museum tour guide Burleigh Muten, this workshop is designed for all ages.
Location: The Emily Dickinson Museum
More about the facilitator: Burleigh Muten became a guide at the Emily Dickinson Museum when she retired from classroom teaching. She has since designed a summer writing camp for young authors at the Museum that focuses on Dickinson's life and work. Her middle grade verse novel, Miss Emily, is about the playful friendship that Dickinson enjoyed with the children in her life. 
12:30 p.m. – 2:30 p.m.: A Poetry Masterclass with Aimee Nezhukumatathil
Hone your craft with Pushcart Prize-winning poet and Amherst Poetry Festival headliner, Aimee Nezhukumatathil.
Location: The Powerhouse
About the facilitator: Born to a Filipino mother and Malayali Indian father, Aimee Nezhukumatathil is the author of four award-winning books of poetry. She is also known for her dynamic and joy-filled teaching. She has twice served as a faculty member for the Kundiman Asian American Writers' Retreat. Her books are widely adopted for high schools, colleges, and universities as part of contemporary poetry, women's studies, and Asian-American literature classes; and she has been a featured reader at over a hundred venues across the globe from Amsterdam to Singapore. In 2014, Nezhukumatathil became one of the country's youngest poets to achieve the rank of full Professor of English. During the 2016-17 academic year, Nezhukumatathil was the John and Renee Grisham Writer-in-Residence at The University of Mississippi. She is now professor of English and teaches environmental literature and poetry writing in the MFA program of the University of Mississippi.
1 p.m. – 2:30 p.m.: Poetry and Curiosities of the Sciences
Emily Dickinson, a passionate botanist and observer of nature, often used close observation to ask questions and illuminate essential truths. In this workshop, participants will examine poems that feature intersections of science and poetry and discuss the ways in which a scientific approach to the creative process could inform their practice/s.
Location: The Emily Dickinson Museum
More about the facilitators: Amy Dryansky is the author of Grass Whistle (Salmon Poetry), winner of the Massachusetts Book Award for poetry, and How I Got Lost So Close to Home (Alice James Books). Her poems are included in several anthologies and appear in a variety of journals, including Barrow Street, Harvard Review, New England Review, Memorious, Orion, The Sun, and Tin House. She is Director of the Culture, Brain, & Development program at Hampshire College. Polina Barskova was born in Leningrad in 1976 and began writing poetry at the age of eight. She published her first book of poetry, Christmas, in 1991. Her tenth book of poetry, A Sunny Morning in the Square, was published in Saint Petersburg last year. Barskova now lives in Amherst, where she teaches Russian literature at Hampshire College and works on a number of projects dedicated to culture and poetry in besieged Leningrad.
3:00 p.m. – 4:30 p.m.: "To Boldly Go": Space Poems, Imagination, and Exploration
Explore the edges of the universe and return with essential observations. In this panel, poets will share work that orbits subjects as far-ranging as love, ecology, politics, and law, highlighting the way these poems use scientific data gathered by increasingly sophisticated technologies and the speculative power of the imagination. There will also be a question and answer session and group discussion about the craft of writing poems that look to the stars while speaking to our terrestrial existence.
Location: The Powerhouse
More about the facilitators: Heather Hughes is a Miami-native, a poet, an Associate Editor at Harvard University Press, and a letterpress printer whose work has been displayed at NASA. Her poems recently appear in Barrow Street and Pleiades. Ellen Goldstein is a poet and co-editor of Letters to the World and author of Stuff Every Beer Snob Should Know. Her poems and essays appear in StorySouth, Post Road, The Common, Tahoma Literary Review, and Lunch Ticket. Hannah Larrabee's full-length poetry collection Wonder Tissue (Sept 2019) won the 2018 Airlie Press Prize. She was selected by NASA to see the James Webb Space Telescope in person, her poems were displayed at Goddard Space Center, and she was awarded an Arctic Circle Residency for 2020. 
5:00 p.m. – 6:30 p.m.: "Who Wore It Better?"
Emily Dickinson's poetry has inspired countless composers to set her texts to song, and in this exciting program, participants will vote on which musician "wore" it best! This event promises to be a fun way to introduce participants to the hundreds of songs inspired by Emily Dickinson's poetry.
More about the facilitators: Molly Fillmore, Professor of Voice at the University of North Texas, made her Metropolitan Opera debut in their newest Ring Cycle and in a principal role in Satyagraha. Other engagements include the San Francisco Opera, the Seattle Opera, the Washington National Opera, the Spoleto Festival, and twenty-five roles with the Cologne Opera. She was a soloist with the Boston Symphony, Seattle Symphony, and Detroit Symphony, and she has performed at Carnegie Hall, Avery Fisher Hall, and the Kennedy Center. Pianist Elvia L. Puccinelli is Associate Professor of Music and Coordinator of Collaborative Piano at the University of North Texas College of Music. She has appeared in recital with members of the New York Philharmonic, the Chicago Symphony Orchestra, the Metropolitan Opera Orchestra, the Los Angeles Philharmonic, and the Dallas Symphony Orchestra. She was twice invited to serve as rehearsal pianist for Seiji Ozawa at the Tanglewood Music Festival.
8:00 p.m. – 11:00 p.m.: Saturday Reading with Paige Lewis and Aimee Nezhukumatathil and Late Night Garden Party with Look Park
Don't miss our second evening of poetry. Join us in Emily Dickinson's garden to hear the powerful work of our headlining poets. Then celebrate another year of poetry in the Pioneer Valley with live music from Look Park, book signings, and refreshments under the stars.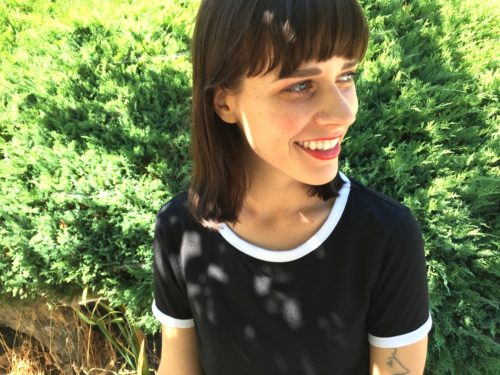 Location: The Emily Dickinson Museum
More about the readers: Paige Lewis is the author of Space Struck (Sarabande Books, 2019). Their poems have appeared in Poetry, American Poetry Review, Ploughshares, The Georgia Review, and elsewhere. They currently teach at Purdue University and in the low-residency MFA program at Randolph College.
Aimee Nezhukumatathil is the author of four books of poetry: Oceanic; Lucky Fish, winner of the Hoffer Grand Prize for Prose and Independent Books; At the Drive-In Volcano; and Miracle Fruit. With Ross Gay, she co-authored Lace & Pyrite, a chapbook of nature poems (Organic Weapon Arts). She is the poetry editor of Orion magazine and her poems have appeared in the Best American Poetry series, American Poetry Review, New England Review, Poetry, Ploughshares,and Tin House. Awards for her writing include an NEA Fellowship in poetry and the Pushcart Prize. She is professor of English and creative writing in the MFA program of the University of Mississippi.
Sunday, September 22
2:00 p.m.: jubilat/Jones Reading
Sad the Festival is almost over? Squeeze in one last round of poetry with jubilat's annual reading at Jones Library! The reading will be followed by a question and answer session.
About the poets:
MELANIE MARIA GOODREAUX, author of Black Jelly, 2019 (A Gathering of the Tribes/Fly By Night Press) is a poet, playwright, fiction writer, and director-dramatist from New Orleans, Louisiana, living, writing, and creating in New York City.

 

ALICIA MOUNTAIN

's debut collection, 

High Ground Coward 

(Iowa, 2018), was selected by Brenda Shaughnessy to win the Iowa Poetry Prize. She is also the author of the 

Thin Fire

, selected by Natalie Diaz and published by BOAAT Press. She is a lesbian poet and a Clemens Doctoral Fellow at the University of Denver. Mountain earned her MFA at the University of Montana in Missoula. She lives in New York. Keep up with her on twitter at 

@HiGroundCoward

.
Support the Festival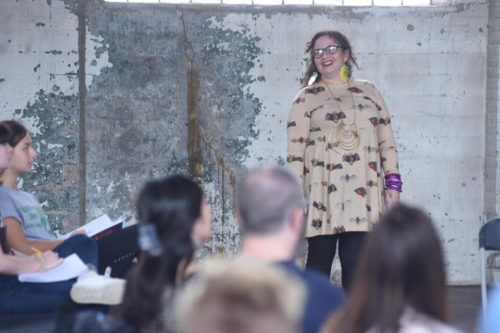 Your support makes the Amherst Poetry Festival possible! Contributions to the 2019 Festival will be used to underwrite costs for featured poets, Slam Poetry Contest prizes, local educational outreach, and workshop supplies. Every contribution helps to celebrate the poetic legacy of Emily Dickinson and the contemporary creativity of the Pioneer Valley and beyond. You can donate now by visiting our donation
page
. Thank you!