August 2, 2018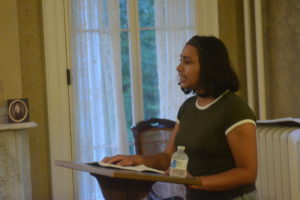 The Emily Dickinson Museum participates in Amherst Arts Night Plus on first Thursdays each month. Free and open to all! 
Learn more  at www.EmilyDickinsonMuseum.org/events. Each month enjoy the following:
5 to 8 pm: Pop-up contemporary art exhibit in the Homestead from 
5 to 6 pm: Open mic signups for poets, writers, performers of any kind
6 pm: Open mic begins
Featured readers follow the open mic 
About guest artists at the Emily Dickinson Museum: Please note that the works of guest artists may contain sensitive or mature material and do not necessarily represent the views of the Emily Dickinson Museum.
August 2, 2018 Arts Night: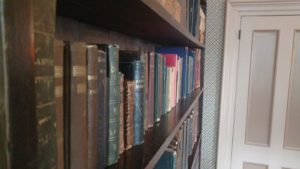 Featured exhibition: Replenish the Shelves 
Learn more about the work of re-creating the Dickinson family library, and see works from the collection on display. At 7PM, summer intern Grace Grieve-Carlson, rising senior at Mount Holyoke College, shares her process of research and documentation, and a special look at some of her favorite objects in the collection.
Featured readings: TBA