VIRTUAL PROGRAM
This virtual program is free to attend. Registration is required.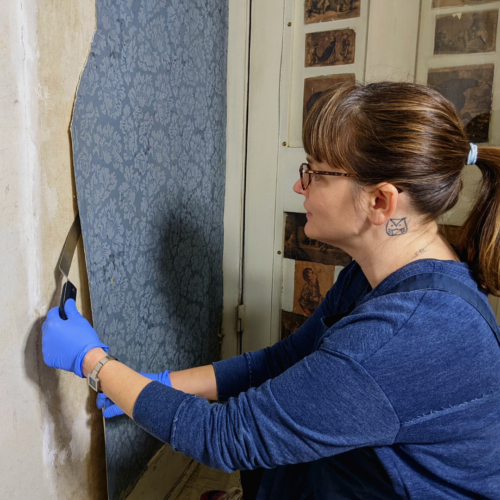 Join us for the second in a three-part series exploring the collection of the Emily Dickinson Museum. The Museum's collection is the largest assemblage in the world of objects representing the Dickinson family's material legacy. Progress continues on the three-year collections documentation project funded by the Institute for Museum and Library Services. In this series, Museum staff converse with specialists and conservators about the unique qualities, challenges and opportunities of this singular collection.
Part 3 is TBA. Sign-up for our e-newsletter to be the first to know!
Featured guest: Carolyn Frisa
Carolyn Frisa is head conservator and owner of Works on Paper conservation studio, established in Vermont in 2008. She has spent the last twenty years of her professional career conserving a wide range of artistic and historic works on paper. Recent projects include the conservation of prints and drawings by Pablo Picasso, watercolor portraits by early American artists including Rufus Porter and Joseph Davis, and the stabilization and treatment of historic wallpapers at The Evergreens and the Marsh Billings Rockefeller National Historic Site. Carolyn received an undergraduate degree in the history of art from Bryn Mawr College in Pennsylvania. She completed her master's degree in paper conservation at Camberwell College of Arts in London, England in 2000. Carolyn is a Professional Associate of the American Institute for Conservation (AIC) and a member of the AIC Book & Paper Group and the AIC Conservators in Private Practice Group. She is a founding board member of the Collections Care and Conservation Alliance and serves on the boards of The New England Conservation Association (NECA), the AIC CIPP Specialty Group, and The Vermont Arts & Culture Disaster & Resiliency Network (VACDaRN).
works-on-paper.net