VIRTUAL PROGRAM
This virtual program is free to attend. Registration is required.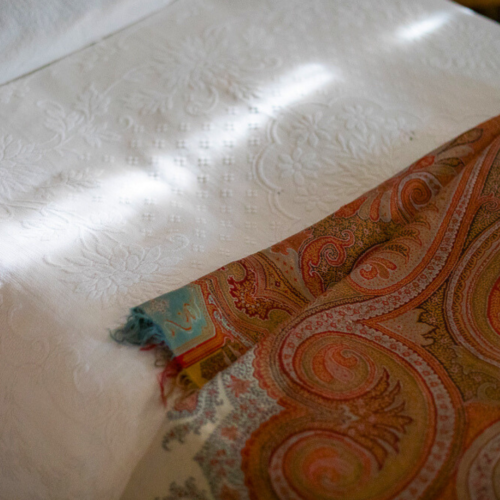 Join us for the last program of our three-part series exploring the collection of the Emily Dickinson Museum. The Museum's collection is the largest assemblage in the world of objects representing the Dickinson family's material legacy. Progress continues on the three-year collections documentation project funded by the Institute for Museum and Library Services. In this series, Museum staff converse with specialists and conservators about the unique qualities, challenges and opportunities of this singular collection. In this final presentation, we'll hear from Professor Lise Sanders about her research in the Museum's textile collection and we will also be making a BIG announcement about the Museum's collections database.
Special Guest: Lise Sanders
Lise Shapiro Sanders is Professor of English Literature and Cultural Studies at Hampshire College. Her books include Consuming Fantasies: Labor, Leisure, and the London Shopgirl, 1880-1920 (Ohio State University Press, 2006); Bodies and Lives in Victorian England: Science, Sexuality, and the Affliction of Being Female, co-authored with Pamela K. Stone (Routledge, 2020); Embodied Utopias: Gender, Social Change, and the Modern Metropolis, co-edited with Amy Bingaman and Rebecca Zorach (Routledge, 2002); and a critical edition of Millicent Garrett Fawcett's 1875 novel Janet Doncaster (Victorian Secrets, 2017). Her most recent book project is Temples of Luxury, a primary source collection co-edited with Susanne Schmid (Routledge, forthcoming in 2023). Her articles have appeared in journals including Early Popular Visual Culture, English Language Notes, The Journal of Modern Periodical Studies, Modern Fiction Studies, and Women's History Review, as well as in several edited collections. With Ilya Parkins, she has co-edited two special journal issues on fashion: "Fashion in the Magazines" (The Journal of Modern Periodical Studies, 2020), and "Theorizing Fashion Media" (Feminist Theory, 2022), and with Carey Snyder, she recently co-edited a forthcoming special issue of Women: A Cultural Review on women writers, generic form, and social and political activism. She is a member of the Feminist Theory editorial collective, and is currently at work on a new book on women, modernity, and the romance in the 1920s.