VIRTUAL PROGRAM
REGISTER FOR THIS PROGRAM FOR FREE
or 
REGISTER FOR THIS PROGRAM WITH A DONATION
You are cordially invited to the Emily Dickinson Museum's virtual celebration of the poet's 191st birthday! On Friday, December 10, join us for an afternoon exploring behind-the-scenes at the Emily Dickinson Museum while we remain closed to the public for our biggest restoration project ever. We will toast to Dickinson's enduring legacy, and share the ways the Museum is working to preserve her home and story. This program contains sneak-peeks at the new interiors you'll see when we reopen in spring 2022, and we'll also be making a BIG ANNOUNCEMENT with our friends over at Apple TV's Dickinson! We can hardly wait to share it with you!
All are welcome to this free program but registration is required.
Give a Birthday Gift
It's not a birthday party without gifts! If you're looking to honor Emily Dickinson with a birthday present, please consider a donation to the Museum to support our free virtual programs which are made possible with your support. Gifts of all sizes are deeply appreciated.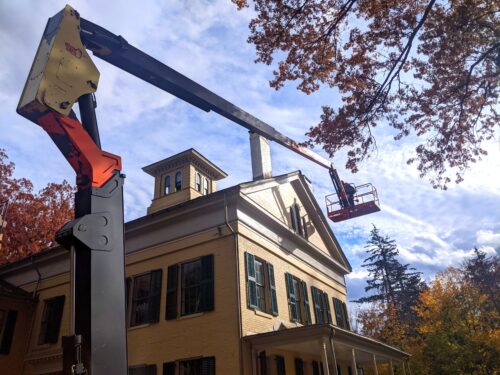 About Dickinson's Birthday
Emily Dickinson, the middle child of Edward and Emily Norcross Dickinson, was born on December 10, 1830, in the family Homestead on Main Street in Amherst, Massachusetts. She celebrated 55 birthdays before her death in 1886. As an adult she wrote, "We turn not older with years, but newer every day." (Johnson L379)