4:30-6PM at the Emily Dickinson Museum Homestead
Scholar Páraic Finnerty presents this lecture on Emily Dickinson and her British contemporaries. He will discuss Dickinson's reading of and response to three of her favorite British poets—Elizabeth Barrett Browning, Robert Browning, and Alfred Tennyson—in relation to their nineteenth-century U.S. reception. The lecture will focus on the impact of Tennyson's and Browning's development and popularization of the dramatic lyric (later termed the dramatic monologue) on Dickinson's poetics. In the process, Finnerty will explore how this context provides a new way of interpreting Dickinson's poetry. Time for questions and answers will follow the talk.
This program is free and open to the public.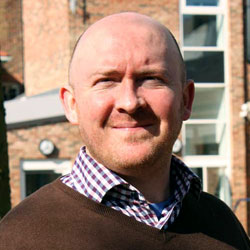 About the speaker: Páraic Finnerty is Reader in English and American Literature at the University of Portsmouth. He is the author of Emily Dickinson's Shakespeare and co-author of Victorian Celebrity Culture and Tennyson's Circle (2013). He is currently working on a monograph entitled Dickinson and her British Contemporaries, forthcoming from Edinburgh University Press. He is a member of the Board of Directors of the Emily Dickinson International Society and serves on the Editorial Board of the Emily Dickinson Journal.