Artists wrestled here!
Lo, a tint Cashmere!
Lo, a Rose!
Student of the Year!
For the Easel here,
Say Repose!
-F111
Since 2009, artists from all over the world have chosen to spend October participating in challenges based on lists of prompts put together by other artists and institutions. Some make a piece of work every day, some every other day, and others are happy to simply take inspiration from all the lists floating around. We're so excited to be participating in this year's #Artober by releasing our own list of prompts consisting of phrases from Dickinson poems! We encourage you to pick and choose from the prompts, to work from either the lines we've provided or from the whole poems from which they've been plucked, and to create in any medium you desire. We look forward to seeing what you create—make sure to tag us on social media so we catch your work! You can tag your pieces with #artober2020, #emilytober, and @emilydickinson.museum. We'll share our favorites from our instagram account, and feature some of them here on our website!
Emilytober #Artober Prompt List, 2020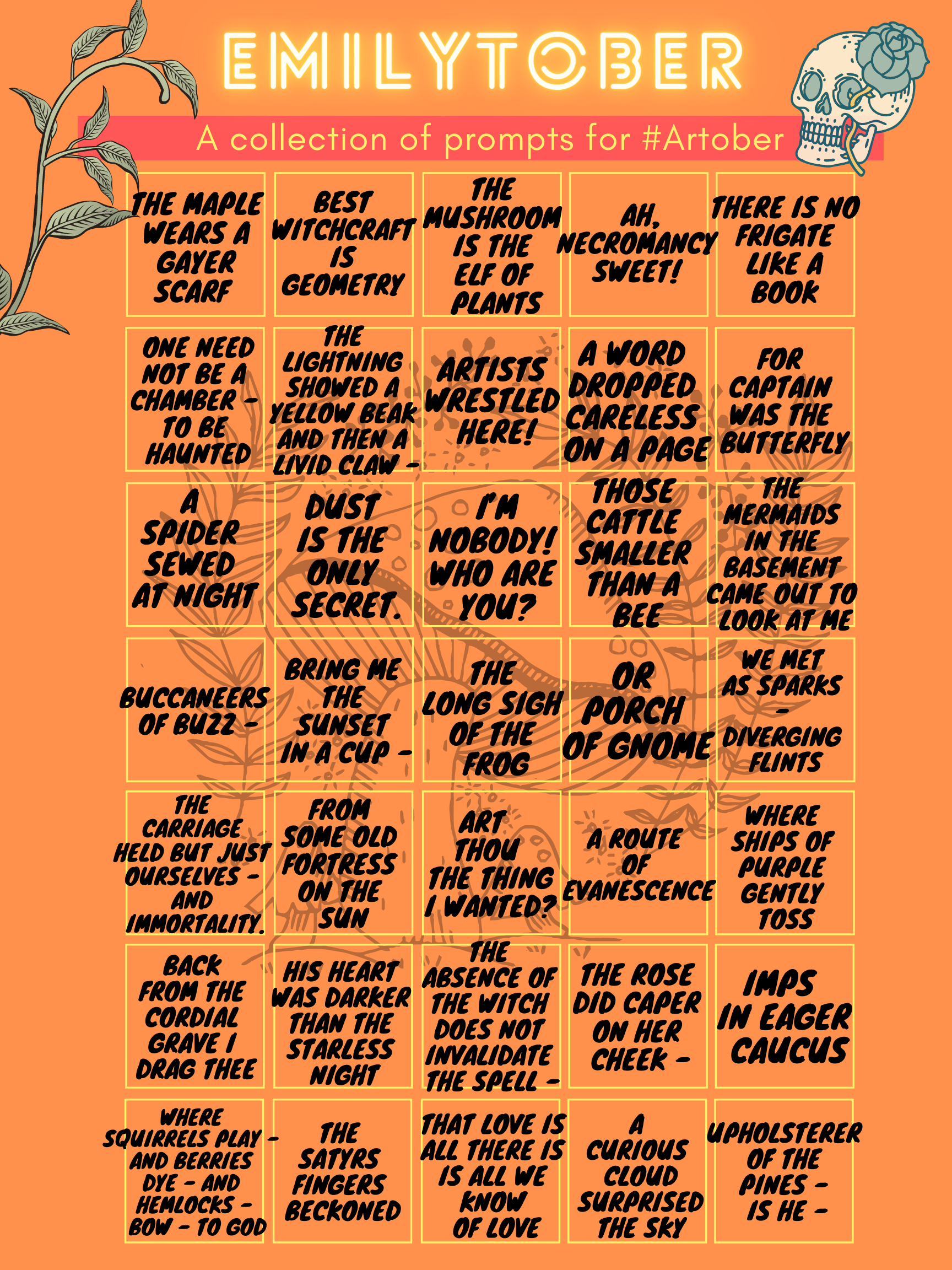 Full text of each prompt, in order, with Franklin edition reference numbers
F32 The maple wears a gayer scarf –

F1158 Best Witchcraft is Geometry

F1350 The Mushroom is the Elf of Plants –

F168 Ah, Necromancy Sweet!

F1286 There is no Frigate like a Book

F407 One need not be a Chamber – to be Haunted

F796 The Lightning showed a Yellow Beak And then a livid Claw –

F111 Artists wrestled here!

F1268 A Word dropped careless on a Page

F1199 For Captain was the Butterfly

F1163 A Spider sewed at Night

F166 Dust is the only Secret.

F260 I'm Nobody! Who are you?

F1393 Those Cattle smaller than a Bee

F656 the Mermaids in the Basement/Came out to look at me –

F1426 Buccaneers of Buzz –

F140 Bring me the sunset in a cup –

F1394 The long sigh of the Frog

F916 Or Porch of Gnome

F918 We met as Sparks – Diverging Flints

F479 The Carriage held but just Ourselves – And Immortality.

F162 From some old Fortress on the sun

F1311 Art thou the thing I wanted?

F1489 A Route of Evanescence,

F296 Where ships of purple gently toss

F1649 Back from the Cordial Grave I drag thee

F1402 His Heart was darker than the starless night

F1405 The absence of the Witch does not Invalidate the spell –

F200 The Rose did caper on her cheek –

F89 Imps in eager caucus

F710 Where Squirrels play – and Berries dye – And Hemlocks – bow – to God

F43 The Satyrs fingers beckoned

F1747 That Love is all there is/Is all we know of Love,

F509 A curious Cloud surprised the Sky

F510 Upholsterer of the Pines – is He –