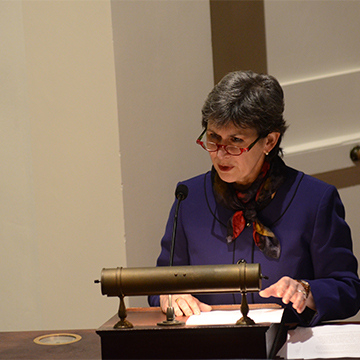 Join us on December 10 for the Folger Shakespeare Library's birthday tribute to Emily Dickinson! Each year, this program brings speakers, scholars, and fans of Emily Dickinson's work together to celebrate the illustrious poet and her writing. This year poet, Dorianne Laux will read original poems in conversation with Dickinson poems. To purchase tickets to the Birthday Tribute, please visit the Folger's website.
With language that is at times sensually earthy then heavenly lyrical, Dorianne Laux's poems share their wisdom and beauty like a slowly opening rose. She is the author of five collections of poetry, including Only as the Day is Long, a finalist for the 2020 Pulitzer Prize. She teaches poetry at North Carolina State University and is a founding faculty member of Pacific University's Low Residency MFA Program. Laux is a National Book Critics Circle Award finalist and a recipient of the Paterson Prize.
Death Comes to Me Again, a Girl
Death comes to me again, a girl in a cotton slip.
Barefoot, giggling. It's not so terrible, she tells me,
not like you think: all darkness and silence.`
There are wind chimes and the scent of lemons.
Some days it rains. But more often the air
is dry and sweet. We sit beneath the staircase
built from hair and bone and listen
to the voices of the living.
I like it, she says, shaking the dust from her hair.
Especially when they fight, and when they sing.
From Only as the Day is Long: new and selected poems. Reprinted with permission of BOA Editions, Ltd. www.boaeditions.org