July 5, 2018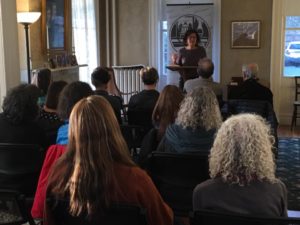 The Emily Dickinson Museum participates in Amherst Arts Night Plus on first Thursdays each month. Free and open to all! Learn more  at www.EmilyDickinsonMuseum.org/events. Each month enjoy the following:
5 to 8 pm: Pop-up contemporary art exhibit in the Homestead from
5 to 6 pm: Open mic signups for poets, writers, performers of any kind
6 pm: Open mic begins
Featured readers follow the open mic 
About guest artists at the Emily Dickinson Museum: Please note that the works of guest artists may contain sensitive or mature material and do not necessarily represent the views of the Emily Dickinson Museum.
July 5, 2018 Arts Night:
Featured Poet: Leslie Marie Aguilar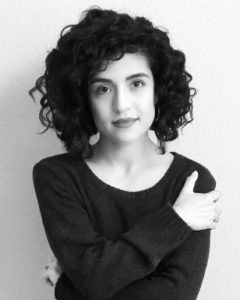 Leslie Marie Aguilar originally hails from the heartland of Texas. She has served as the Poetry Editor of Harbinger Journal of Literature and Art and the Poetry Editor of Indiana Review, where she previously worked as Associate Genre Editor and Web Editor. Her writing has appeared or is forthcoming in  BorderSenses, Bellingham Review, Hobart, Southern Indiana Review, Stirring: A Literary Collection, The Boiler, Iron Horse Literary Review, fields, Phoebe, Río Grande Review, Hotel Amerika, Ninth Letter, Looseleaf Tea, The Más Tequila Review, Spillway, Rattle, Emerge Literary Review, San Pedro River Review, Indiana Review, Callaloo, Chicago Quarterly Review, Sonora Review, and Washington Square Review. Leslie's poetry has been awarded a National Society of Arts and Letters Chapter Career Award, the David E. Albright Memorial Award, and was chosen by D. A. Powell as the recipient of the 2014 Washington Square Poetry Award. Her poems were also finalists for the 2014 49th Parallel Poetry Award, the 2014 New Letters Poetry Award, and the Andrés Montoya Poetry Prize. She received her MFA from Indiana University and is a Fine Arts Work Center Fellow. Above all, she enjoys lemonade in clear cups and jackalopes. Learn more about Leslie here: http://lesliemarieaguilar.com/
Featured Artist: Arielle Jessop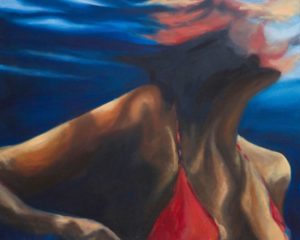 A native New Englander from Amherst, Massachusetts, Arielle Jessop completed her undergraduate degree in Studio Art and Art History at Concordia University in Montreal, Canada. After leaving Canada she was fortunate enough to be inspired by the work of the masters while working her way across Italy and the rest of Europe. Arielle's extensive travel experience and interest in human interaction, specifically language, has contributed to her vocabulary as an artist. "Visual art has become my language; it is the medium with which I have chosen to express my desire to contribute to the society I live in. Connection and communication, whether verbal or visual, has always been of interest to me; my expression as an artist is the most powerful language I can learn because it affects people on multiple levels". A native of the Pioneer Valley in Western Massachusetts, she is inspired by the beauty of the farmland and landscape that surrounds her and she finds joy in painting the gems that the earth provides.