Virtual Program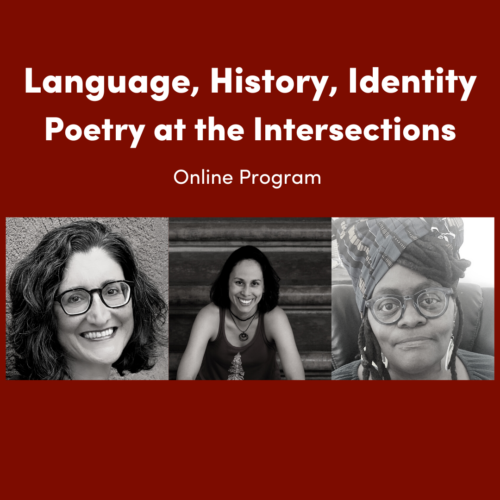 Part of the 2022 Tell It Slant Poetry Festival
In this interactive panel and generative workshop, panelists Leonora Simonovis, Farnaz Fatemi, and Cynthia Parker Ohene will explore the intersections of language, migration, gender (bodies and boundaries), history, family, and patriarchy, and how these forces have shaped their identities as women from historically marginalized groups. The panel's discussion will weave in short readings from the poets' own work to address how each individual approaches these topics and how the themes intersect with the larger communities they belong to. Following the discussion, each poet will offer a generative writing prompt inspired by elements of their work. Participants will leave the panel with new tools to write about home, family and history.
---
About the poets:
Leonora Simonovis is the author of Study of the Raft, winner of the 2021 Colorado Prize for Poetry. Her work has appeared in Gargoyle, Kweli Journal, Diode Poetry Journal, Tinderbox Poetry Journal, and The Rumpus, among others. Her poems have also been featured in Verse Daily, Sims Library of Poetry, and CIACLA (Contemporary Irish Center, Los Angeles). She has been the recipient of fellowships from Women Who Submit (WWS), VONA, and the Poetry Foundation.
---
Farnaz Fatemi is an Iranian American poet, editor and writing teacher in Santa Cruz, CA. Her debut book, Sister Tongue, won the 2021 Stan and Tom Wick Poetry Prize (selected by Tracy K. Smith) and is forthcoming from Kent State University Press. Her poetry and prose appears in Grist Journal, Catamaran Literary Reader, Crab Orchard Review, SWWIM Daily, Tahoma Literary Review,Tupelo Quarterly, phren-z.org, and several anthologies.
---
Cynthia Parker-Ohene is a three-time Pushcart nominee, abolitionist, cultural worker, and therapist. She is an MFA graduate in Creative Writing at Saint Mary's College of California, and the Chester Aaron Scholar for Excellence in Creative Writing. Her recent work has appeared in The Rumpus, Black Warrior Review, Bellevue Literary Review, Kweli, Green Mountains Review, and West Branch, among others. Her book Daughters of Harriet was published in March 2022.
---
Support The Tell It Slant Poetry Festival and Honor Someone Special:
Admission to all Festival events is free, but online donations, especially those made in honor or memory of family, friends, or colleagues are heartily encouraged and vital to the future of this beloved annual event. All gifts are tax deductible and will be recognized as part of the Festival.
---