Hybrid Program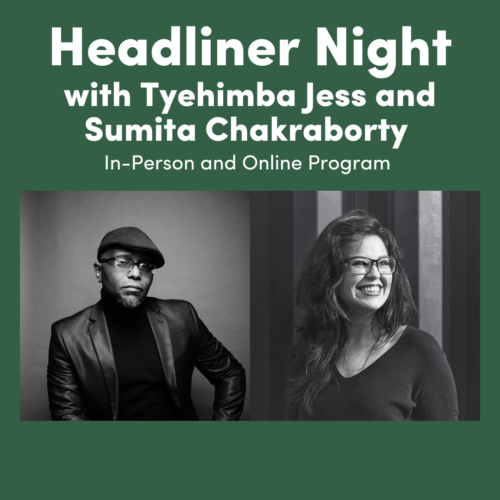 Part of the 2022 Tell It Slant Poetry Festival
UPDATE: 9/24 3PM: Please note Tyehimba Jess will not be able to be with us tonight due to an emergency. Our thoughts are with him and we hope to be able to find a way to bring him to the Museum in the near future. Matt Donovan will take the stage to read from his new book alongside Sumita Chakraborty this evening.
Join us in Emily Dickinson's garden or virtually for a celebration of creativity and poetry!  Here to kick off the evening, celebrated artist Lesley Dill and filmmaker Ed Robbins share a glimpse of Divide Light, an Emily Dickinson opera, visual art, and film collaboration. Then our featured headlining poets, Pulitzer Prize winner Tyhemiba Jess and  Sumita Chakraborty read from their work and discuss their poetic practice and inspiration with facilitator Matt Donovan.  Stay for in-person music, refreshments, and a book signing to follow. 
---
About Divide Light:
Divide Light is an opera collaboration by Originator/Creative Director Lesley Dill and Composer Richard Marriott, and captured in film by Ed Robbins. It contemporizes the works of poet Emily Dickinson, linking the groundbreaking ideas of the mid-19th century American Transcendental movement to innovations and global concerns in today's rapidly changing world. 
Lesley Dill is an American artist working at the intersection of language and fine art in printmaking, sculpture, installation, and performance, exploring the power of words to cloak and reveal the psyche. She is the recipient of the Emily Dickinson Museum's 2019 Tell it Slant Award. Dill transforms the emotions of the writings of Emily Dickinson, Salvador Espriu, Tom Sleigh, Franz Kafka, and Rainer Maria Rilke into works of paper, wire, horsehair, foil, bronze, and music—works that awaken the viewer to the physical intimacy and power of language itself. Her opera, Divide Light, based on the poems of Emily Dickinson, was performed in San Jose in 2008. In April 2018 the New Camerata Opera Company performed a restaged version in New York City, which was captured in a full-length film by Ed Robbins. Dill's artworks are in the collections of over fifty museums, including the Metropolitan Museum of Art, the Museum of Modern Art New York, and the Whitney Museum of American Art. She has had over a hundred solo exhibitions. Dill lives and works in Brooklyn, New York.
Ed Robbins is an award winning Director-Writer-Producer and Digital Journalist. Drawn to stories of individuals in the face of adversity, he's travelled extensively across America and internationally. The topics have ranged from social justice, crime, frontline war, the environment, human rights, religion, science, to the performing and visual arts. He's written-produced numerous hour programs for television outlets that include PBS, Discovery Channel, TLC, Nat Geo Channel, ABC, NBC, and in the UK: BBC2 and Channel 4. 
---
About the poets:
Tyehimba Jess is the author of two books of poetry, Leadbelly and Olio. Olio won the 2017 Pulitzer Prize, the Anisfield-Wolf Book Award, The Midland Society Author's Award in Poetry, and received an Outstanding Contribution to Publishing Citation from the Black Caucus of the American Library Association.  It was also nominated for the National Book Critics Circle Award, the PEN Jean Stein Book Award, and the Kingsley Tufts Poetry Award.  Leadbelly was a winner of the 2004 National Poetry Series. The Library Journal and Black Issues Book Review both named it one of the "Best Poetry Books of 2005."
Jess, a Cave Canem and NYU Alumni, received a 2004 Literature Fellowship from the National Endowment for the Arts, and was a 2004–2005 Winter Fellow at the Provincetown Fine Arts Work Center. Jess is also a veteran of the 2000 and 2001 Green Mill Poetry Slam Team, and won a 2000–2001 Illinois Arts Council Fellowship in Poetry, the 2001 Chicago Sun-Times Poetry Award, and a 2006 Whiting Fellowship. He presented his poetry at the 2011 TedX Nashville Conference and won a 2016 Lannan Literary Award in Poetry. He received a Guggenheim fellowship in 2018. Jess is a Professor of English at College of Staten Island.  
Jess' fiction and poetry have appeared in many journals, as well as anthologies such as Angles of Ascent: A Norton Anthology of Contemporary African American Poetry, Beyond The Frontier: African American Poetry for the Twenty-First Century, Role Call: A Generational Anthology of Social and Political Black Literature and Art, Bum Rush the Page: A Def Poetry Jam, Power Lines: Ten Years of Poetry from Chicago's Guild Complex, and Slam: The Art of Performance Poetry.
Sumita Chakraborty is a poet, essayist, and scholar. She is the author of the poetry collection Arrow (Alice James Books (U.S.)/Carcanet Press (U.K.), 2020), which received coverage in the New York Times, NPR, and the Guardian. Her first scholarly book, Grave Dangers: Poetics and the Ethics of Death in the Anthropocene, is in progress and under advance contract with the University of Minnesota Press.
Her poetry has appeared in POETRY, The American Poetry Review, Best American Poetry 2019, the Academy of American Poets' Poem-a-Day, The Rumpus, The Offing, and elsewhere. Her essays most frequently appear in the Los Angeles Review of Books. Her scholarship appears or is forthcoming in Cultural Critique, Interdisciplinary Studies in Literature and the Environment (ISLE), Modernism/modernity, College Literature, and elsewhere.
Sumita is Assistant Professor of English and Creative Writing at North Carolina State University in Raleigh, NC. Previously, she held the positions of Helen Zell Visiting Professor in Poetry at the University of Michigan – Ann Arbor and Visiting Assistant Professor in Women's, Gender, and Sexuality Studies at Emory University. Her courses have been cross-listed in Women's, Gender, and Sexuality Studies and Environmental Studies; recent offerings include undergraduate courses such as "Writing in a Time of Extinction," "Conversations with Dead People," "The Personal, The Political, and The Poetic," and "Unruly Feelings," which are upper-level literary studies seminars, as well as graduate courses on topics such as "Reading Archives: Gaps, Margins, Erasures," "Poetry and Research," "On Failure," and the Thesis Workshop in Poetry.
She is a proud alumna of Wellesley College, where she received her BA, and she received her doctorate in English with a certificate in Women's, Gender, and Sexuality Studies from Emory. She is the recipient of a Ruth Lilly and Dorothy Sargent Rosenberg Fellowship from the Poetry Foundation, a Kundiman fellow, and has been shortlisted for a Forward Prize for Best Single Poem by the Forward Arts Foundation (UK). Formerly, she was poetry editor of AGNI Magazine and art editor of At Length. Current or more recent editorial work includes reading for the Michigan Review of Prisoner Creative Writing and curating the May 2021 selections for the Academy of American Poets' Poem-a-Day series, as well as serving on the board of Alice James Books (joined in 2021).
Facilitator:
Matt Donovan is the author of three collections of poetry—The Dug-Up Gun Museum (BOA 2022), Rapture & the Big Bam (Tupelo Press 2017), and Vellum (Mariner 2007)—as well as the book of lyric essays, A Cloud of Unusual Size and Shape: Meditations on Ruin and Redemption (Trinity University Press 2016). Donovan is the recipient of a Whiting Award, a Rome Prize in Literature, a Pushcart Prize, the Levis Reading Prize, and an NEA Fellowship in Literature. In 2017, he received a Creative Capital Grant for Inheritance, a collaborative multimedia chamber opera based on the life of Sarah Winchester. Donovan serves as Director of The Boutelle-Day Poetry Center at Smith College. 
---
Support The Tell It Slant Poetry Festival and Honor Someone Special:
Admission to all Festival events is free, but online donations, especially those made in honor or memory of family, friends, or colleagues are heartily encouraged and vital to the future of this beloved annual event. All gifts are tax deductible and will be recognized as part of the Festival.
---