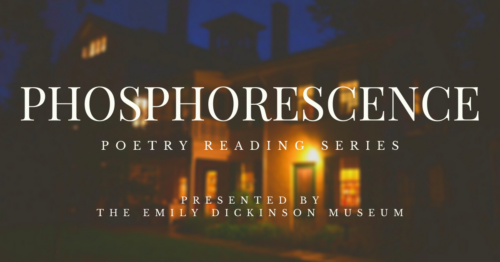 The Emily Dickinson Museum is now accepting proposals for the 3rd year of our Phosphorescence Poetry Reading Series — a virtual event held monthly from May-October in 2023! This year, opportunities for reading on-site at the Emily Dickinson Museum and remotely will be available. Please make sure to select your preference in the submission form.
Produced by the Emily Dickinson Museum, the aim of Phosphorescence is to celebrate contemporary creativity that echoes Dickinson's revolutionary poetic voice. The Series features established and emerging poets who represent the diversity of the flourishing contemporary poetry scene, and fosters community through poetry. The Series is a place to connect virtually over a shared love of language and an appreciation for Dickinson's literary legacy.
Featured poets are promoted on the Museum's event web page, through an event mailing list of roughly 18,000 addresses, and through the Museum's social media. Each participating poet receives a $200 honorarium.
READINGS:
This program occurs at 6pm ET on a Thursday each month. Each reading may feature 1-3 poets. Readings are 15-25 minutes long on average per reader, though this may depend on other program components each month. Group submissions are strongly encouraged. Poets who submit alone will be paired with other poets if selected. Poets are welcome to promote sales of their books, and/or awareness of other media on the evening of the program. Poets should be prepared to engage in facilitated conversation and/or a Q&A after their readings on subjects including inspiration, craft, and Emily Dickinson.
SUBMISSION GUIDELINES:
Only submissions made using our online form and Dropbox folder will be considered. We will not accept email or paper submissions.
There is no fee to submit proposals.
Group submissions from up to 3 poets are accepted.
The following submission qualities are especially encouraged:
builds community
features BIPOC and/or LBGTQ+ voices
highlights a connection to Dickinson's life and legacy
pushes poetic boundaries
SUBMISSIONS DUE: Sunday, February 12, 2023, 12pm ET.
TIMELINE
All submissions will be notified of their acceptance status by early April. Participating poets will be asked to sign a letter of agreement confirming participation on assigned dates.
---
View last year's Phosphorescence Schedule
Watch Phosphorescence on Youtube