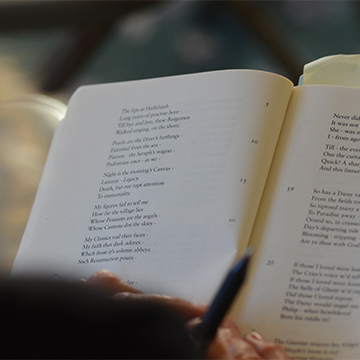 The Emily Dickinson Museum's Poetry Discussion Group meets monthly, September through May, for lively conversation about Emily Dickinson's poetry and letters.
Join us from 12pm to 1:30pm on Zoom for a discussion on November 19 or November 20. Space is limited. To request a space, please complete this google form. For questions, please write edmprograms@emilydickinsonmuseum.org.
This program is free of charge, but we encourage those who are able to do so to make a donation after the program.
"The Way to Know the Bobolink": Field Notes on Dickinson's Birds
Over 200 bird references flit in and out of Dickinson's poems. We know Dickinson's birds as metaphors of hope, symbols of seasonal change, and less frequently, as subjects. We'll explore a small collection of poems that feature those species Dickinson knew best—the New England backyard birds and probable visitors to the Dickinson meadow—whose presences herald a distinctly American poetry.  This discussion will situate Dickinson's literary birds alongside bird ecology, behavior, and the burgeoning  field of ornithology. But while we may "split the lark" (Fr905), we'll be sure to keep the "music" of Dickinson's words at the forefront of our discussion.
About the facilitator
As Education Programs Manager, Elizabeth Bradley has curated the Emily Dickinson Museum's Poetry Discussion Group since 2017. She is looking forward to stepping into the role of leader for the first time to discuss two of her favorite topics: Dickinson and birds. Elizabeth has an MA in History from UMass Amherst (with an emphasis on public, cultural, and environmental histories), and is fascinated by nature in the 19th century imagination. She has a long history of leading more science-oriented bird discussions, having developed many K-12 programs and teacher workshops about urban birds during her tenure as an environmental educator in NYC. Her favorite local bird is the hermit thrush.