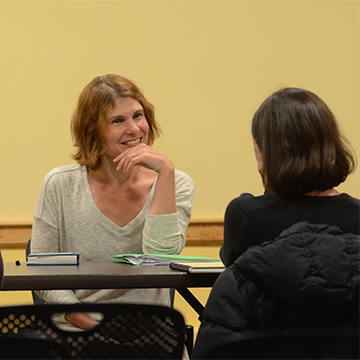 The Emily Dickinson Museum's Poetry Discussion Group meets monthly, September through May, for lively conversation about Emily Dickinson's poetry and letters.
Join us from 12pm to 1:30pm on Zoom. This program is full. If you are interested in future poetry discussion sections, please email edmprograms@emilydickinsonmuseum.org.
This program is free of charge, but we encourage those who are able to do so to make a donation upon their accepted registration. 
Topic: "No lives – Are Round": Emily Dickinson's Poetics
Karen Sánchez-Eppler, co-editor with Cristanne Miller of the forthcoming Oxford Handbook of Emily Dickinson, will lead the group in discussion that draws from new critical approaches to Dickinson. She will  briefly introduce the goals for the Handbook as well as the mix of approaches and perspectives it encompasses. The collection contains many essays that deepen our knowledge of the historical, biographical, and literary contexts in which Dickinson wrote and many that address her poetics—the how and what of her writing. A central goal of the project has been to connect these two scholarly modes. Rather than thinking of Dickinson as writing a poetry of correspondence, specific occasion, and intimate relationship, tightly bound to its immediate historical and biographical context and its unique material form (the chocolate wrapper or envelope flap) OR as a poetry of philosophical and spiritual consequence and universal reach, the collection affirms that both are true. Rather than asking readers to pick between these modes, we prod readers to consider how they illuminate each other.  
For this poetry discussion, we will explore a few poems that have more than one version, and hence more than one context, as a convenient way to consider how biographical context and material form do and don't matter for Dickinson's poetics. 
About the Facilitator: 
Karen Sánchez-Eppler is Professor of American Studies and English at Amherst College. She frequently teaches college seminars on Dickinson at the Museum and is a member of the Emily Dickinson Museum Board of Governors. She is the author of Touching Liberty: Abolition, Feminism, and the Politics of the Body and Dependent States: The Child's Part in Nineteenth-Century American Culture. She is co-editor with Cristanne Miller, of the forthcoming The Oxford Handbook of Emily Dickinson. See her faculty profile for a fuller account of her scholarship and interests.