In-Person Program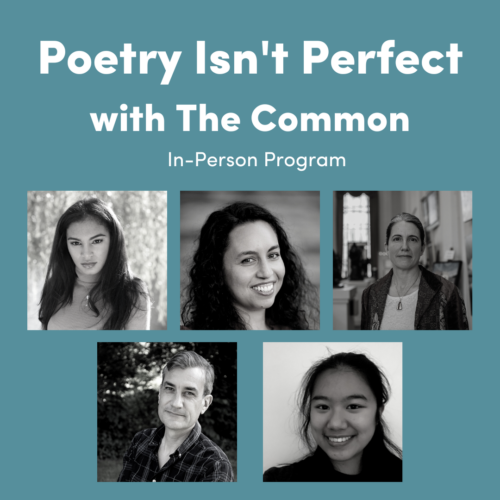 Part of the 2022 Tell It Slant Poetry Festival
Emerging writers of all ages will learn about the process of submitting poetry to literary platforms like The Common, an award-winning literary magazine with a sense of place and a global perspective. Join editorial assistants at The Common and a panel of established poets Jennifer Jean, Karen Skolfield, and Matt Donovan in discussing writing and submission processes from every angle. Writers will leave with concrete advice on inspiration, workflow, and the step-by-step process of literary publishing.
---
About the poets:
Jennifer Jean's poetry collection VOZ will be released in 2023 from Lily Books. Her other collections include OBJECT LESSON (Lily Books) and THE FOOL (Big Table). She's also released the teaching resource OBJECT LESSON: A GUIDE TO WRITING POETRY (Lily Books). Her poems, prose, and co-translations have appeared in: Poetry Magazine, Rattle, The Common, On the Seawall, Waxwing, DMQ, Terrain; and, as an Academy of American Poets "Poem-a-Day." She's been awarded fellowships from the Kenyon Review Writers Workshop, Disquiet/Dzanc Books, and the Massachusetts Cultural Council; as well, she received an Ambassador for Peace Award from the Women's Federation for World Peace. Jean is an organizer, and co-translator of Arabic poetry, for the Her Story Is collective. She edits poetry for Talking Writing and translations for Consequence Forum; and, is the program manager of 24PearlStreet, the Fine Arts Work Center's online writing program.
Karen Skolfield's book Battle Dress (W. W. Norton) won the 2020 Massachusetts Book Award in poetry and the Barnard Women Poets Prize. Her book Frost in the Low Areas (Zone 3 Press) won the 2014 PEN New England Award in poetry, and she is the winner of the 2016 Jeffrey E. Smith Editors' Prize in poetry from The Missouri Review. Skolfield is a U.S. Army veteran and teaches writing to engineers at the University of Massachusetts Amherst; she served as poet laureate for Northampton, MA for 2019-2022. www.karenskolfield.com
Matt Donovan is the author most recently of The Dug-Up Gun Museum (BOA 2022) and the collection of lyric essays, A Cloud of Unusual Size and Shape: Meditations on Ruin and Redemption (Trinity University Press 2016). He is the recipient of a Whiting Award, a Rome Prize in Literature, a Creative Capital Grant, and an NEA Fellowship in Literature. He serves as Director of the Boutelle-Day Poetry Center at Smith College.
---
Facilitators:
Sarah Wu (she/her) is a prospective English and computer science major at Amherst College. She is an editorial assistant intern for The Common, and her short stories have been published in an anthology at The Dark Dispatch and the student literary magazine, The Indicator. She is currently fascinated in how the digital space interacts and enhances the literary experience and how AAPI authors encapsulate and subvert what is labeled as the "Asian American experience."
Andrenae Jones (she/her) is an English and Film and Media Studies major at Amherst College. She is an editorial assistant intern for The Common, and her stories and essays have been published in Film Matters Journal and The Minetta Review. She is currently working toward a creative thesis written in poetry-prose hybrid that will explore her own personal experiences navigating racial liminality as a young mixed-race woman existing in historically white spaces.
---
Support The Tell It Slant Poetry Festival and Honor Someone Special:
Admission to all Festival events is free, but online donations, especially those made in honor or memory of family, friends, or colleagues are heartily encouraged and vital to the future of this beloved annual event. All gifts are tax deductible and will be recognized as part of the Festival.
---