Hybrid Program
Part of the 2022 Tell It Slant Poetry Festival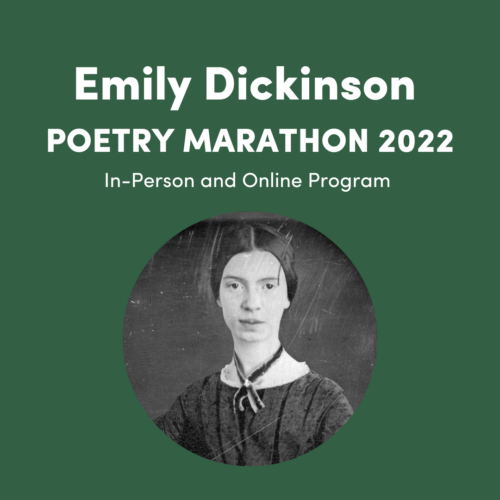 Join us for the week-long Emily Dickinson Poetry Marathon! An Emily Dickinson Museum tradition, the Marathon is a group reading of all 1,789 poems by Emily Dickinson over the course of 7 sessions. For this year's hybrid Festival, some sessions will take place in-person and others online. For the Marathon, we will be reading from Ralph Franklin's The Poems of Emily Dickinson: Reading Edition.
Marathon session times and reader sign-ups are located in the Festival platform on Sched. To access the platform, register for the Festival and look for your e-mail confirmation containing the link to Sched.
To attend any Marathon session online as a listener, please register for the Festival using the link above, and add the session to your schedule. To reserve a spot as a reader, please use the forms linked below.
Reader sign-up forms for in-person sessions:
Reader sign-up forms for virtual sessions:
Thursday, Sept. 22 7:30-9:30pm
Support The Tell It Slant Poetry Festival and Honor Someone Special:
Admission to all Festival events is free, but online donations, especially those made in honor or memory of family, friends, or colleagues are heartily encouraged and vital to the future of this beloved annual event. All gifts are tax deductible and will be recognized as part of the Festival.