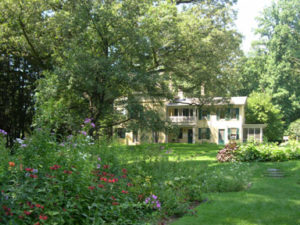 Summer was arguably Dickinson's favorite season: more of her poems are set in summer than any other time of year. It's not hard to understand why–summer at the Homestead brought with it trumpeting lilies, fragrant old-garden roses, delicious strawberries, and stores of fresh vegetables.
Join Marta McDowell, master gardener, landscape historian, and author of Emily Dickinson's Gardening Life for a virtual stroll through the Homestead gardens. Bring a cup of tea and spend an hour savoring blooms, stories, and verse gathered from Dickinson's gardens. Learn about the flowers and plants Dickinson and her sister Lavinia cultivated in summer and how they preserved the fruits of their labor throughout the year.
This FREE program will be held on zoom from 12:30pm to 1:30pm EST. CLICK HERE TO REGISTER.
Would you like Summer? Taste of our's –
Spices? Buy – here!
Ill! We have Berries, for the parching!
Weary! Furloughs of Down!
Perplexed! Estates of Violet – Trouble ne'er looked on!
Captive! We bring Reprieve of Roses!
Fainting! Flasks of Air!
Even for Death – A Fairy medicine –
But, which is it – Sir?
(F272)
About Marta
Marta McDowell teaches landscape history and horticulture at the New York Botanical Garden and consults for private clients and public gardens.  Her latest book is Emily Dickinson's Gardening Life, 2019. Timber Press also published The World of Laura Ingalls Wilder, New York Times-bestselling All the Presidents' Gardens, and Beatrix Potter's Gardening Life, now in its seventh printing.  Marta is working on a new book about The Secret Garden and its author, Frances Hodgson Burnett, due out from Timber Press in 2022. She is the 2019 recipient of the Garden Club of America's Sarah Chapman Francis Medal for outstanding literary achievement.