Honoring Marilyn Nelson, Alena Smith, and the Founders of the Emily Dickinson Museum
HYBRID PROGRAM — In-person at Amherst College's Johnson Chapel and streaming live for online registrants
This program is FREE to attend. Registration is required. 
A celebratory dinner to follow the Awards. Please read below to learn more. 
Part of the 2023 Tell It Slant Poetry Festival!
REGISTER FOR THE FESTIVAL (October 1 ticket is for whole Festival)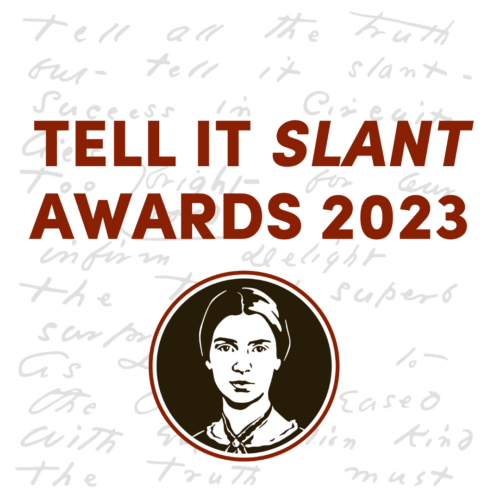 Join us for an inspiring evening at the Tell It 
Slant
 Awards honoring individuals whose work is imbued with the creative spirit of Emily Dickinson. 
This year the Museum honors poet and author Marilyn Nelson, Apple TV+ 
Dickinson
creator Alena Smith, and, in honor of our 20th Anniversary, the Museum's core founders. The evening includes recognition of the 2023 awardees, followed by a facilitated conversation with Amherst College President Michael Elliott on the power that Emily Dickinson's revolutionary poetic voice holds for the past, present, and future. 
Stay with us for a celebratory dinner immediately following the Tell It Slant Awards program. Share the company of Tell It Slant award winners, fellow Emily Dickinson enthusiasts, and devoted supporters as we commemorate the Museum's 20th anniversary and celebrate the honorees. Your dinner ticket purchase directly supports the free Tell It Slant Poetry Festival, including the Awards program. 
For questions about the dinner, please contact Mardi at mbuell@EmilyDickinsonMuseum.org.
The Museum's core founders are Polly Longsworth, Charles R. Longsworth, Elizabeth S. Armstrong, John A. Armstrong, Cynthia S. Dickinson, Kent W. Faerber, Thomas R. Gerety, Julie Harris (d), George Monteiro (d), Leslie A. Morris, Barton St. Armand, Karen Sanchez-Eppler, William McC. Vickery (d), Jane H. Wald, and Philip S. Winterer. 
Past award winners include Pulitzer Prize-winning poet Kay Ryan, former Poet Laureate Richard Wilbur, documentary filmmaker Ken Burns, and artist Lesley Dill.