In celebration of ArtWeek and National Poetry Month, the Emily Dickinson Museum will make poetry come to life when it rains in Amherst. See if you can spot all six selected poems around town from our Art of Rain Poetry competition. We promise these compositions will make even a soggy stroll delightful. As you discover the rain poems, be sure to snap a photo and tag it on social media with #ArtofRainPoetry !
Poems were selected after a call for submissions. Our thanks to the nearly 80 poets who sent in poems!
ANNOUNCING THE ART OF RAIN POETS:
Jill Hughes is a reader, seeker, observer of the humanities. She is a career student and apprentice, as well as a current co-owner at Collective Copies and Levellers Press. In 2017, she received her MA in Poetry and Poetics from the University of Maine, where she also co-founded a multidisciplinary performance series called The Happenings Series.
Loy Kong, a five-year-old student at Crocker Farm Elementary, has been in Amherst since last August. This is the first time that she has been in another country. She played alone for the first few months because of the language barrier, but she has always stayed positive and said, "Mommy, don't worry. It is going to be ok." Now she has good friends and she is so happy about that. She loves learning new things and writing poems.
Manuel Becerra is a Mexican poet who is working on a poetry book about Emily Dickinson. He is the author of five books and has won numerous national and international literature awards. His work has been translated into English, French and Italian. Becerra held a fellowship at Art Omi in New York, 2018. Find more of his poems here.
Margaret Winikates is a poet, author, and museum educator from Boston, MA.  She majored in English Literature and Language at Harvard University.  She currently works for the New England Museum Association, is a board member for the Museum Education Roundtable, and is a member of the Leadership Council for MassCreative.  Her poems, essays, and short fiction can be found at MassPoetry's U35 archive, all the sins, the Center for the Future of Museums,  Window Cat Press, Connected at the Peabody Essex Museum, and Zetetic: A Record of Unusual Inquiry, as well as at https://mwinikates.com/. 
 Howie Faerstein is a poet whose second full-length poetry collection, Googootz and Other Poems, published by Press 53 came out in September, 2018. His work can be found in numerous journals, including Great River Review, Nimrod, Cutthroat, Upstreet, Off the Coast, Cape Cod Poetry Review, Mudfish, and on-line in Gris-Gris, and Connotation Press. He lives in Florence, Massachusetts. 
HOW TO FIND RAIN POEMS:
Use the map below to find the poems on a rainy day!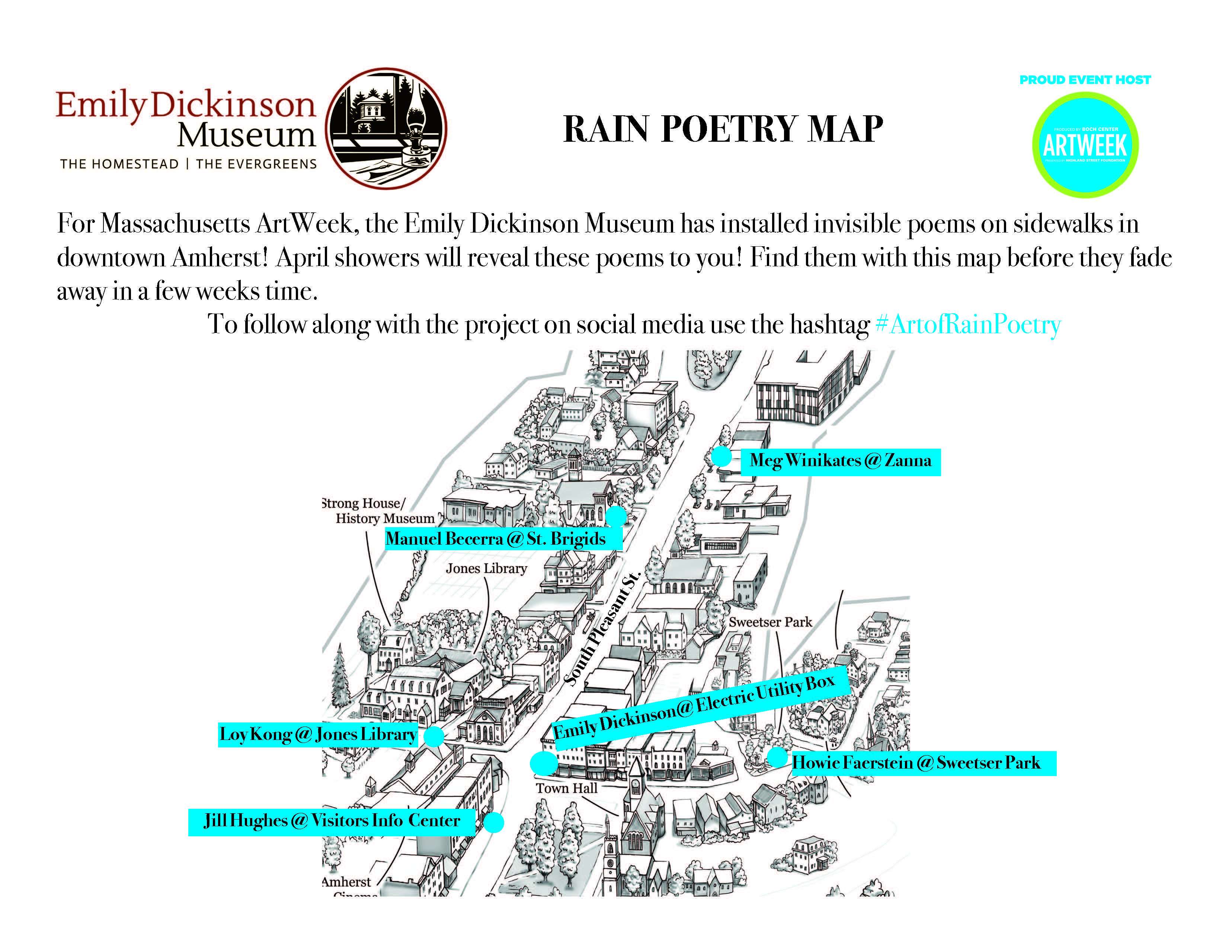 Our Partners:
About Art Week: Presented by the Highland Street Foundation and produced by the Boch Center, ArtWeek is an annual award-winning innovative festival featuring more than 500 unique and creative experiences that are hands-on, interactive or offer behind-the-scenes access to artists or the creative process. ArtWeek was born in Boston in 2013 and now serves over 100 towns across Massachusetts as the signature nonprofit community program of the Boch Center.           
About Mass Poetry: Mass Poetry believes that words matter. They support poets and poetry in Massachusetts, help to broaden the audience of poetry readers, bring poetry to readers of all ages, and transform people's lives through inspiring verse. They are a 501(c)(3) organization.