Dickinson's Music Book and the Musical Life of an American Poet:


A Book Launch with George Boziwick 
IN-PERSON PROGRAM – The Emily Dickinson Museum offices at 20 Triangle Street, Amherst, MA.
Registration for this program is now full. Thank you for your interest.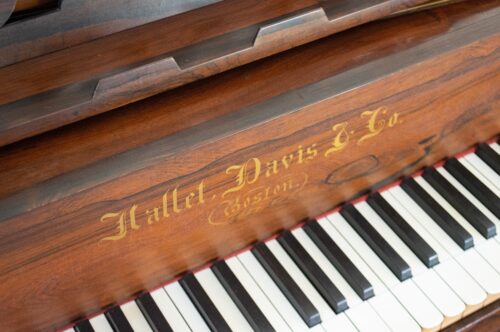 After years of studying piano as a young woman, Emily Dickinson curated her music book, a common practice at the time. Now part of the Dickinson Collection in the Houghton Library of Harvard University, this bound volume of 107 pieces of published sheet music includes the poet's favorite instrumental piano music and vocal music. Offering a fresh historical perspective, George Boziwick's new book brings this artifact to life, documenting Dickinson's musical study in the early 1850s, which tellingly coincided with the writing of her first poems. Using Dickinson's letters and poems, Boziwick explores the various composers, music sellers, and publishers behind this music and Dickinson's attendance at performances, presenting new insights into the multiple layers of meaning that music held for her. Enjoy an illustrated talk followed by live music in the Dickinson family parlor on the 1851 Hallet and Davis piano.
Please note that KN95 masks will be required for all attendees and social distancing will not be possible during the program.
---
About:
George Boziwick is a musicologist, music librarian, composer and performer. His forty years in public and academic music libraries included thirty-one years with The New York Public Library for the Performing Arts, from which he retired in 2017 as Chief of the Music Division. As a composer, his Magnificat is published by C.F. Peters, and his music has been recorded on the Opus One label among others. George has contributed articles on Emily Dickinson and music to the Journal of the Society for American Music (2014), and the Emily Dickinson Journal (2016). He currently serves on the Board of the Emily Dickinson International Society. George is co-founder with Trudy Williams of The Red Skies Music Ensemble. They co-authored and co-produced a series of programs (2012-2018) on Emily Dickinson and her musical experiences. Two of those programs were sponsored by the Emily Dickinson Museum: "Emily and Lavinia: Music Making and Dickinson's Eden," (2018); and "The Musical Parlor of Emily Dickinson," (2013).
Kit Young is a pianist/composer/devisor, who returned to Washington, DC in 2012 after twenty years living in Thailand, Myanmar and China where she frequently performed contemporary music by Asian composers, co-founded a music school in Yangon and collaborated on performances and recordings with improvising musicians from these countries. In 2018, as a pianist-improviser, Young's return to reading Emily Dickinson's poetry after a long hiatus inspired her to cast as extemporaneous song Dickinson's poems, letters, commentary by family and friends. Imagining Dickinson's inner aural life, early connection to the piano through repertoire from Emily Dickinson's Music Book, church hymns, her ensouling the beauty of non-human sounds invites engagement with aurality. What Miss Dickinson Heard… And Didn't is Young's chamber opera for duo-pianists and vocal quartet. The opera follows a large arc of the poet's life as if it were one day by exploring Dickinson's depth of auditory artistry through improvisation evoking music and environmental sound – expressed in her poetry and letters. 
---
Support The Emily Dickinson Museum:
Admission to this program is free of charge, but online donations, especially those made in honor or memory of family, friends, or colleagues are heartily encouraged and vital to the future of our programs. All gifts are tax deductible.