In-Person Program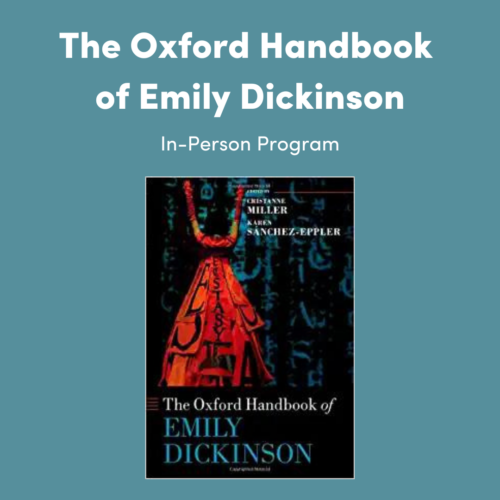 Part of the 2022 Tell It Slant Poetry Festival
The Oxford Handbook of Emily Dickinson (Oxford University Press, 2022)  is designed to engage, inform, interest, and delight students and scholars of Emily Dickinson, US literature, and the lyric poem. This is the first collection on Dickinson to foreground the material and social culture of her era while opening new windows to interpretive possibility in ours, balancing Dickinson's own material culture and historical context with the critical conversations in our present –  as she wrote, "Forever is composed of Nows." 
Scholars, poets, and artists who contributed to the Handbook join editors Dr. Cristanne Miller and Dr. Karen Sánchez-Eppler in conversation and celebration. Join this esteemed gathering to consider debates about Dickinson's manuscripts and practices of composition, the viability of translation across language and media, and about the politics of class, gender, place, and race. Refreshments will be served.
---
Panelists:
Karen Sánchez-Eppler: Karen Sánchez-Eppler is co-editor of The Oxford Handbook of Emily Dickinson (Oxford University Press, 2022) and author of the included essay, "Except the smaller size –": Aunt Emily's Poetry. Sánchez-Eppler is L. Stanton Williams 1941 Professor of American Studies and English at Amherst College and serves on the boards of the Porter-Phelps-Huntington Foundation and of the Emily Dickinson Museum. Her first book, Touching Liberty: Abolition, Feminism and the Politics of the Body (1993), included work on Dickinson. Dependent States: The Child's Part in Nineteenth-Century American Culture (2005) initiated her turn to childhood studies. She is one of the founding coeditors of The Journal of the History of Childhood and Youth and past president of C19: The Society of Nineteenth-Century Americanists.
Cristanne Miller: Cristanne Miller is co-editor of The Oxford Handbook of Emily Dickinson (Oxford University Press, 2022) and author of the included essay, Writing for Posterity: Editing, Evidence, and Sequence in Dickinson's Composition and Circulation of Poems. Miller is SUNY Distinguished Professor and Edward H. Butler Professor at the University at Buffalo SUNY. She has published broadly on nineteenth- and twentieth-century poetry. Her books on Dickinson include Emily Dickinson: A Poet's Grammar (1987), Reading in Time: Emily Dickinson in the Nineteenth Century (2012), and the edition Emily Dickinson's Poems: As She Preserved Them (2016), winner of the Modern Language Association's Best Scholarly Edition Prize. She serves on the editorial advisory board for the Emily Dickinson Archive and is currently coediting a new complete letters of Emily Dickinson with Domhnall Mitchell. Among other work on modernist poetry, Miller is founder and director of the Marianne Moore Digital Archive. 
Lisa Brooks: Lisa Brooks is author of Whose Native Place? The Dickinsons and the Colonization of the Connecticut River Valley in the Oxford Handbook. Brooks is an Abenaki writer and scholar who lives and works in the Kwinitekw Valley. She is Professor of English and American Studies at Amherst College. Known for her extensive archival research and place-based scholarship, Brooks is the author of The Common Pot: The Recovery of Native Space in the Northeast (University of Minnesota Press, 2008) and Our Beloved Kin: A New History of King Philip's War (Yale University Press, 2018), which received several awards, including the Bancroft Prize for American History and Diplomacy and the New England Society Book Award for Historical Nonfiction in 2019.
Claire Nashar: Claire Nashar is author of "The Pedigree of Honey": Class, Colony, and Politics in Amherst's "Beehive" and Dickinson's Bee Poems in the Oxford Handbook. Nashar recently earned her PhD in English from the State University of New York, Buffalo, supported by a Mellon/ACLS Dissertation Completion Fellowship. Winner of an Excellence in Teaching Award, she has published a book of poems, Lake (2016), and a number of interviews, translations, poems, and two critical essays. She edited a special issue of Formes Poétiques Contemporaines and is at work on a book-length translation from the French. Nashar has served as curator of the online Australian Poetry Library and as Project Editor and Manager for the Marianne Moore Digital Archive.
Jane H. Wald: Jane Wald is author of A Short Biography of the Homestead and The Evergreens in the Oxford Handbook. Wald has been executive director of the Emily Dickinson Museum for over twenty years. Wald is the Executive Director of the Emily Dickinson Museum. Her work at the museum has included operational integration of the Homestead and The Evergreens, expansion of the museum's program and audiences, and completion of numerous restoration and capital projects. Her published articles have focused on the material and cultural contexts of Dickinson's environment, including " 'The Poet Hunters': How Emily Dickinson's House Became a Destination" for the Emily Dickinson Journal, " 'Pretty Much Real Life': The Material World of the Dickinson Family" for the Blackwell Companion to Emily Dickinson, and " 'Better than Heaven': Emily Dickinson's Religious Texts" for the Emily Dickinson Archive.
Nan Wolverton: Nan Wolverton is author of "The Wanderers came last Night": Dickinson and the Material Culture of Indigenous Basket Sellers in the Oxford Handbook. Wolverton is Interim Vice President for Programs at the American Antiquarian Society in Worcester, Massachusetts. At the Society she also is Director of Fellowships and Director of the Center for Historic American Visual Culture. Wolverton has published widely on early American material and visual culture, including in Freemasonry and the Visual Arts from the Eighteenth-Century Forward: Historical and Global Perspectives (2019). She served as Curator of Decorative Arts at Old Sturbridge Village and as a Lecturer in American Studies at Smith College and at Amherst College. Her projects as a material culture and humanities consultant, include those at the Emily Dickinson Museum, Herman Melville's Arrowhead, Historic Deerfield, Inc., the Pocumtuck Valley Memorial Association, and the Mashantucket Pequot Museum and Research Center. Wolverton prepared the online catalog of Dickinson family artifacts for Harvard's Emily Dickinson Collection at the Houghton Library at Harvard University.
Mary Loeffelholz: Mary Loeffelholz is author of "Yellow Noise": Information and Form in Dickinson's Intermedial Writing in the Oxford Handbook. Loeffelholz is Professor of English at Northeastern University. Her work on Dickinson includes Dickinson and the Boundaries of Feminist Theory (1991), From School to Salon: Reading Nineteenth-Century American Women's Poetry (2004), The Value of Emily Dickinson (2016), and the Blackwell Companion to Emily Dickinson, coedited with Martha Nell Smith (2007), as well as essays and book chapters published in The Emily Dickinson Journal, ELH, Dickinson Electronic Archive, and Emily Dickinson in Context (edited by Eliza Richards, 2013). She served as editor of Studies in American Fiction from 1993 to 2008 and as editor of Volume D, 1914–1945, of The Norton Anthology of American Literature, editions 7 (2007), 8 (2011) and 9 (2016).
Maurice Lee: Maurice Lee is author of Dickinson Uncut: Reading and Not Reading in Print Culture in the Oxford Handbook. Lee is Professor of English at Boston University. He is the author of Slavery, Philosophy, and American Literature, 1830–1860 (Cambridge, 2005) and Uncertain Chances: Science, Skepticism, and Belief in Nineteenth-Century American Literature (Oxford, 2012). His most recent book is Overwhelmed: Literature, Aesthetics, and the Nineteenth-Century Information Revolution (Princeton, 2019). He has received awards from the Melville Society, Poe Studies Association, and the Association of College and Research Libraries, as well as fellowships from the NEH, ACLS, and Radcliffe Institute for Advanced Study.
Jennifer Leader: Jennifer Leader is author of The Finite – furnished / With the Infinite –": Dickinson's Biblical Imaginations in the Oxford Handbook. Leader is Professor of English at Mt. San Antonio College in Walnut, California. She is the author of Knowing, Seeing, Being: Jonathan Edwards, Emily Dickinson, Marianne Moore and the American Typological Tradition (2016). Most recently she has contributed essays on Dickinson, Walt Whitman, and Marianne Moore to The Bible and Feminism: Remapping the Field (2017), Whitman/Dickinson: A Colloquy (2017), and Twenty-First Century Marianne Moore: Essays from a Critical Renaissance (2018).
Renée Bergland: Renee Bergland is author of Dickinson Emergent: Natural Philosophy and the Postdisciplinary Manifold in the Oxford Handbook.  Bergland is Professor of Literature & Writing in the Gwen Ifill College of Media, Arts, and Humanities at Simmons University. She is the author of The National Uncanny: Indian Ghosts and American Subjects (University Press of New England, 2000) and Maria Mitchell and the Sexing of Science: An Astronomer among the American Romantics (Beacon Press, 2008). With Gary Williams, she edited Philosophies of Sex: New Essays on Julia Ward Howe's Hermaphrodite (Ohio State University Press, 2012). Since 2014, she has been the book review editor for the Emily Dickinson International Society Bulletin.
Kathryn R. Kent: Kathryn R. Kent is author of Dickinson's Spinster Poetics in the Oxford Handbook. Kent is Professor of English at Williams College. She is the author of Making Girls into Women: American Women's Writing and the Rise of Lesbian Identity (2003). Her recent publications reflect her two ongoing projects: an intellectual biography of Eve Kosofsky Sedgwick, and a book queering summer camp in the United States.
Lesley Dill: Lesley Dill is author of "How ruthless are the gentle–": The Art of Emily Dickinson and Lesley Dill in the Oxford Handbook. Dill is one of the most prominent American artists working at the intersection of language and fine art. Her elegant sculptures, art installations, mixed-media photographs, and evocative performances draw from both her travels abroad and profound interests in spirituality and the world's faith traditions. Fluid metaphors, appropriated from the poetry and writings of Emily Dickinson, Salvador Espriu, Tom Sleigh, Franz Kafka, and Rainer Maria Rilke, connect the diverse media that Dill employs. Exploring the power of words to cloak and reveal the psyche, Dill invests new meaning in the human form. Intellectually and aesthetical engaging, the core of her work emerges from an essential, visionary awareness of the world. 
---
Support The Tell It Slant Poetry Festival and Honor Someone Special:
Admission to all Festival events is free, but online donations, especially those made in honor or memory of family, friends, or colleagues are heartily encouraged and vital to the future of this beloved annual event. All gifts are tax deductible and will be recognized as part of the Festival.
---