VIRTUAL PROGRAM
This free event has limited capacity, we encourage you to register in advance.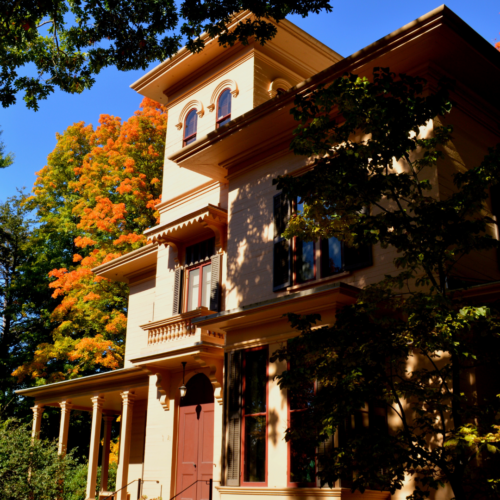 In an obituary for Emily Dickinson, her sister in law, Susan Dickinson wrote of the poet's many "duties beautifully done." In the wake of Emily's death, Susan's own sense of duty and that of her daughter Martha, and Martha's heir Mary Hampson, preserved the family's memories of the poet as well as her material legacy. These women of The Evergreens left their own legacies of duty and devotion evident in the condition of the uniquely preserved house today. 
In celebration of Emily Dickinson's 193rd birthday, and of the 2024 reopening of The Evergreens at the Emily Dickinson Museum, this virtual program invites you into Susan's, Martha's, and Mary's home, only ever lived in by the Dickinsons or their heirs until 1986. Join Jane Wald, Jane and Robert Keiter Family Executive of the Museum, and Martha Nell Smith, co-editor of Open Me Carefully, Dickinson scholar and Distinguished Scholar-Teacher Professor of English at the University of Maryland, as they remember the house during and shortly after the life of its last resident Mary Hampson, who was a mere one-degree of separation removed from Emily Dickinson herself.
All are welcome to this free VIRTUAL program. Space is limited, register in advance.
---
Give a Birthday Gift
It's not a birthday party without gifts! If you're looking to honor Emily Dickinson with a birthday present, please consider a donation to the Museum to support our free virtual programs which are made possible with your support. Gifts of all sizes are deeply appreciated.
---
About Dickinson's Birthday
Emily Dickinson, the middle child of Edward Dickinson and Emily Norcross Dickinson, was born on December 10, 1830, in the family Homestead on Main Street in Amherst, Massachusetts, now the home of the Emily Dickinson Museum. She celebrated 55 birthdays before her death in 1886. Some of the poet's most favored themes were time and immortality; she wrote, "We turn not older with years, but newer every day." (Johnson L379)