Virtual Program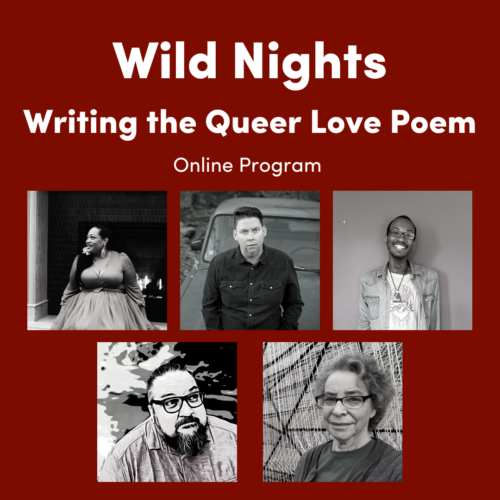 Part of the 2022 Tell It Slant Poetry Festival
How is a queer love poem different from a heterosexual love poem? How have the contours of queer courtship been transformed as LGBTQ+ people have become more visible in our culture? In this panel, LGBTQ+ poets read queer love poems from their own ouvre and by other American poets of note, and then discuss some of the issues this work raises. Audience members are encouraged to engage and will leave with recommended readings.
---
About the poets:
Saida Agostini is a queer Afro-Guyanese poet from Silver Spring, whose work explores the ways Black folks harness mythology to enter the fantastic. Her first book is let the dead in.
---
Tanya Olson lives in Silver Spring, and is a lecturer in English at the University of Maryland Baltimore County. Her book Boyishly received a 2014 American Book Award. Her second book is Stay.
---
Kim Roberts is a resident of the Park View neighborhood of DC. She edited By Broad Potomac's Shore, selected for Route 1 Reads as the book that "best illuminates important aspects" of the culture of Washington. She is the author of five books of poems, most recently The Scientific Method.
---
Malik Thompson is a Black queer man from the Mt. Pleasant neighborhood of DC. He works as a bookstore manager for Black, queer-owned Loyalty Bookstores in Petworth, DC, and is co-chair of OutWrite DC, an annual LGBTQ+ literary festival.
---
Dan Vera lives in the Brookland neighborhood of DC. He is co-editor of Imaniman: Poets Writing in the Anzaldúan Borderlands and author of two books of poetry, Speaking Wiri Wiri and The Space Between Our Danger and Delight.
---
Support The Tell It Slant Poetry Festival and Honor Someone Special:
Admission to all Festival events is free, but online donations, especially those made in honor or memory of family, friends, or colleagues are heartily encouraged and vital to the future of this beloved annual event. All gifts are tax deductible and will be recognized as part of the Festival.
---