IN-PERSON PROGRAM at the Emily Dickinson Museum in Amherst, MA
Please note, due to limited capacity in the Homestead, this free program is SOLD OUT. Walk-ups without tickets will be admitted as space is available.
We encourage you to sign-up for our e-newsletter to be the first to know about upcoming programs: 
emilydickinsonmuseum.org/newsletter-signup/
Want to celebrate Dickinson's birthday? Join us for the VIRTUAL celebration:
Duties beautifully done: A Dickinson Birthday Celebration [Virtual]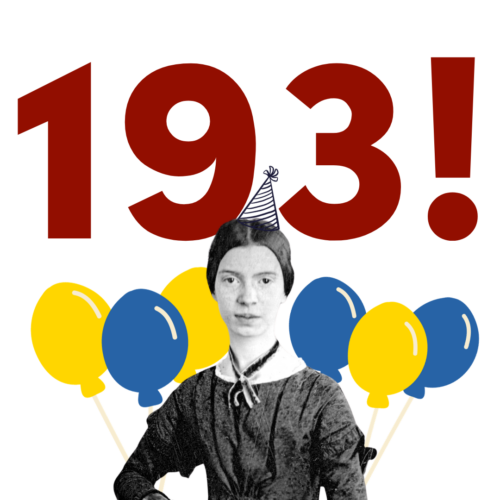 You are cordially invited to the Emily Dickinson Museum's in-person celebration of the poet's 193rd birthday! On Saturday, December 9, join us at the Homestead for a free open house with tours, crafts, music, cider and gingerbread cookies!
All are welcome to this free program. Can't make it to Amherst? Stay tuned for the announcement of our virtual birthday celebration!
---
Give a Birthday Gift
It's not a birthday party without gifts! If you'd like to honor Emily Dickinson on her birthday, please consider a donation to the Museum to support our free programs which are made possible with your support. Gifts of all sizes are deeply appreciated.
---
About Dickinson's Birthday
Emily Dickinson, the middle child of Edward Dickinson and Emily Norcross Dickinson, was born on December 10, 1830, in the family Homestead on Main Street in Amherst, Massachusetts, now the home of the Emily Dickinson Museum. She celebrated 55 birthdays before her death in 1886. Some of the poet's most favored themes were time and im/mortality; she wrote, "We turn not older with years, but newer every day." (Johnson L379)