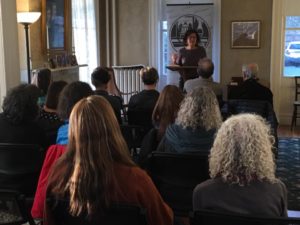 Join us during Amherst Arts Night Plus on August 1, 2019 for our monthly Open Mic. Poets, writers, and performers of any kind are welcome! Come early to view the pop-up, contemporary art exhibition in the Homestead by our featured artist and take in a movement performance in the site-specific art installation in the conservatory. The open mic begins at 6:00 p.m. and will be followed by this month's featured readers. Those who would like to share their work should arrive between 5:00 and 6:00 p.m. to sign up.
Featured poet: Chris O'Carroll, following the open mic
Chris O'Carroll is an actor, comedian, and Light magazine featured poet whose work has appeared in The Great American Wise Ass Poetry Anthology. He has won British prizes from Flash 500, Literary Review, The New Statesman, The Oldie, and The Spectator. A native of Cambridge, Massachusetts, he has lived in England, Canada, and many parts of the U.S., including New Orleans, New York City, and Emporia, Kansas. He now resides in Western Massachusetts with his wife, historian Karen Manners Smith. His book of poems, The Joke's on Me, was published by White Violet Press earlier this year. 
Featured artist: Madge Evers
Madge Evers is fascinated by nature's ability to repurpose organic matter. Her work originates in the soil of urban and rural landscapes, using materials she grows or forages. The fungi kingdom knows no waste and makes the detritus of the plant and animal kingdoms live again. Mushroom spores' primary goal is to establish a larger community. Evers work uses fungi to create imagery that shows the inner workings of nature – imagery that belies their reputation for decay. 
Artist Bio: Madge Evers grew up in Connecticut and lives in western Massachusetts. In her early years, she was a fine arts photographer with an interest in portraiture and the human form. She studied at the Maine Photographic Workshop, has a B.A. in English from Suffolk University, and an M.A. from the University of Rhode Island. Madge's work originates from her passion for gardening and growing things. She cultivates Stropharia rugosoannulata in her garden and forages for mushrooms in woods and fields. Both provide her with a renewable source of spore "ink." When not making spore prints, Madge can be found teaching high school English or somewhere in the garden. Find out more about Madge Evers here.
"In Suspension"
Also on view this evening is our Conservatory Art Installation Exhibit, "In Suspension," by Tereza Swanda, Ingrid Pichler, and Fletcher Boote. As part of Arts Night Plus, the exhibit will be activated by movement performed by Kelly Silliman at 5:30 and 6PM.
Kelly Silliman will be activating the conservatory with movement as part of "In Suspension." She has created a site-specific dance piece inspired by the shapes and movements of Tereza Swanda's installation, and by the variant wordings found in the editing process of Emily Dickinson's poems. The dance is intended to be viewed from all directions, and from both inside and outside the conservatory. Audience members are invited to move to a different viewing spot at any point in the piece. 
Tereza Swanda, one of three artists who created "In Suspension," will speak about the work at the beginning of the open mic.