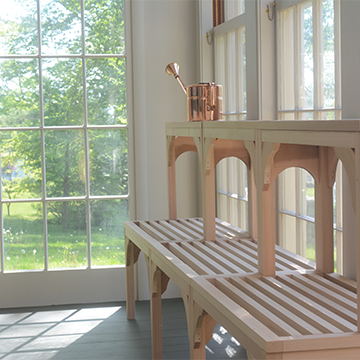 (AMHERST, Mass., June 10, 2019) – The Emily Dickinson Museum today announced the selected artists from its inaugural Conservatory Art Installation contest. Tereza Swanda, a graduate of the Vermont College of Fine Arts and the Massachusetts College of Art and an Instructor of Art at Dean College, alongside Ingrid Pichler and Fletcher Boote will transform the Conservatory with their exhibit "In Suspension." A former lecturer at the Millay Colony and Vermont College of Fine Arts, Swanda's work has been exhibited at the Temporary Agency in Brooklyn, NY, the SRISA Gallery of Contemporary Art in Florence, IT, and the Museum of Science and Industry in Manchester, UK, among others. Pichler has worked in architectural glass for thirty years, and her keen understanding of the malleable potential of the medium will inform the installation.
Swanda, Pichler, and Boote will convert Emily Dickinson's conservatory, a small room where the poet maintained her link to the natural world across the seasons, into a mixed-media exhibition. Taking the Emily Dickinson poem "Nature is what we see" as the starting point, the installation will include colored gels and painted paper that samples colors found in the landscape. In addition to this visual component, the landscape will be translated by Boote into a soundscape that wordlessly references Emily Dickinson's poetry. The installation may be enjoyed from outside the glass conservatory on the south side of the Homestead, and viewed from inside when the Museum is open. During Amherst Arts Night Plus in July and August, a dance piece will be performed in the space by Kelly Silliman.
The site-specific installation, the first of its kind in the newly restored conservatory, marks a major milestone in the Museum's mission to not only preserve and celebrate the poetry of Emily Dickinson, but to amplify the voices of artists, musicians, and poets working today. Drawing attention to the importance of the conservatory in the life of Emily Dickinson, these artists' work will seamlessly integrate contemporary art into this historic setting.
The exhibition will open on Friday, June 21 and run through September 9, 2019. A public reception will be held to celebrate the opening at the Museum on June 21, from 6:30 p.m. to 8:00 p.m.