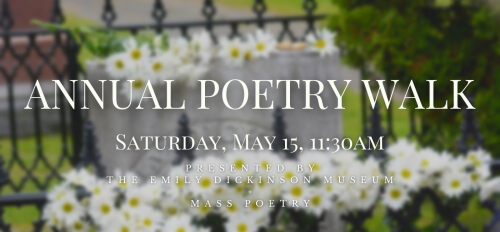 VIRTUAL PROGRAM
"Called Back": A Virtual Emily Dickinson Poetry Walk
Saturday, May 15, 11:30am ET
Days before her death in 1886, Emily Dickinson wrote her final letter, "Little Cousins, / Called Back. / Emily". On May 15, the 135th anniversary of the poet's death, join the Emily Dickinson Museum for an engaging virtual poetry reading and "walk" through Amherst, the town she called "paradise."  At each stop we will see historical and contemporary images of sites of meaning for Dickinson including her garden and conservatory at the Homestead, The Evergreens — home to the poet's brother and sister-in-law, the town common, Amherst College, and more.  Not a lecture, this program infuses place with poetry. At each stop contemporary poets share their Dickinson-inspired poems and volunteers read Dickinson's own words aloud. The final stop is Dickinson's grave in West Cemetery where we will share reflections and a light-hearted virtual toast! This year's Poetry Walk is part of Mass Poetry's 2021 Massachusetts Poetry Festival.
Registration for this program is free or by donation but it is required in advance.
A Daisy for Dickinson: Be a part of a beloved tradition of outfitting Emily Dickinson's final resting place at Amherst's West Cemetery with fresh daisies on the anniversary of her death.  Make a supporting donation to the Museum in honor of Emily or in memory of someone you've loved and lost, and we'll place a daisy in their name at the poet's grave as part of this year's Poetry Walk (May 15).
We hope you enjoyed this beloved tradition of honoring Emily Dickinson on the anniversary of her death. If you would like to make a supporting gift to the Museum in honor of Emily or in memory of someone you've loved and lost, you may do so below.
Rewatch:
About the participating poets:
Elizabeth Bolton has a PhD in Literacy Education from the Ontario Institute for Studies in Education. She writes articles, essays and poems about the connection between writing and mental health. She grew up in northern California and now lives in Niagara Falls, Ontario with her husband and two daughters.
Lori Desrosiers' poetry books are The Philosopher's Daughter, Sometimes I Hear the Clock Speak, and Keeping Planes in the Air, all from Salmon Poetry. Two chapbooks, Inner Sky and Typing with e.e. cummings, are from Glass Lyre Press. She edits Naugatuck River Review, a journal of narrative poetry and Wordpeace.co, an online journal dedicated to social justice. http://loridesrosierspoetry.com
Hannah Baker Saltmarsh is the author of the poetry collection, Hysterical Water, published by The University of Georgia Press in March 2021. She has written a book of poetry criticism, entitled Male Poets and the Agon of the Mother: Contexts in Confessional and Post-confessional Poetry (Univ. of South Carolina P., 2019). She is the mother of three children, and lives with her husband in Cedar Rapids, Iowa, where she teaches and writes. 
Kate Godin lives in Western Massachusetts, where she tends to the writing needs of a small liberal arts college, a tween and a teen, a vigorous anxiety, and her poetry (which can be found at kategodin.com). She is a graduate of Bates College and the New School for Social Research.
Bonnie Larson Staiger is a North Dakota Associate Poet Laureate, the recipient of the 'Poetry of the Plains and Prairies Prize (NDSU Press, 2018) and the 'Independent Press Award: Distinguished Favorite' (2019) for her collection, Destiny Manifested. Her second book In Plains Sight, is forthcoming from NDSU Press in 2021. www.bonniestaiger.com
Robin Long (@theotherdickinson) is a queer poet and writer from Austin. She is expanding her fiction thesis on Emily Dickinson, The Other Dickinson, and can be found at theotherdickinson.com. She is a Pushcart Prize nominee, 2020 National Poetry Month Editor's Pick, and a digital poetry performer with FEELS Zine.
Siri Palreddy is a first-year at Amherst College, hoping to study both English and Neuroscience. An avid reader, she first discovered Emily Dickinson in high school, and has loved her work ever since. Apart from poetry, Siri enjoys writing creative nonfiction and is compelled by stories that navigate one's identity (or identities) and roots. When not reading or writing, you can find Siri spending her free time volunteering, laying in the sun, or rewatching her favorite comfort shows. https://siridhatripalreddy.wixsite.com/website-1
Peter Schmitt is the author of six books of poems. "Emily Dickinson and the Boston Red Sox" appears in his new collection, Goodbye, Apostrophe (Regal House). A graduate of Amherst and The Iowa Writers Workshop, he lives and teaches in his hometown of Miami, Florida.  
Don Skoog is a freelance musician, writer, and teacher living in Oak Park, Illinois. He plays Classical percussion and Jazz drums, as well as Latin American, Arabic, and Persian instruments. He authors books and articles on exploring culture through music—the latest, in Arabic, for The University of Chicago's Majala magazine—and has written four novels (not all of them published yet). The poem Amherst, is from Adventures in the RhythmVerse, his first chapbook. www.contemporarymusicproject.com
Rebecca Starks is the author of the poetry collections Time Is Always Now, a finalist for the 2019 Able Muse Book Award, and Fetch, Muse (forthcoming from Able Muse Press), and is the recipient of Rattle's 2018 Neil Postman Award for Metaphor. She lives in Richmond, Vermont.  https://rebeccastarks.com
Abigail Price is a 24 year old English poet, writer and Undergraduate student studying Criminology, Criminal Justice and Social Policy at the University of Wolverhampton in England. Most of Abigail's work is inspired by her past and significantly, nature which aided her recovery from mental illness in her early teenage years. Abigail is an avid writer & reader and her dream is to influence social change through British politics alongside writing beautiful poetry to leave people a little bit better, than when her poems found them. https://abigailtoriprice.wixsite.com/nerve 
This program is co-presented with Mass Poetry.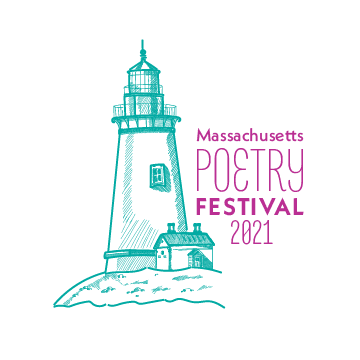 The Massachusetts Poetry Festival, a biennial event based in Boston, MA, returns May 13-16, 2021 for a virtual showcase featuring 50+ readings panels, workshops, performances and more. Find more information or register for other Festival events today at festival.masspoetry.org.