IN-PERSON PROGRAM
---
This program is jointly presented by the Emily Dickinson International Society. Registration is required. 
Please address any questions about the Annual Meeting to edismeeting@emilydickinsonmuseum.org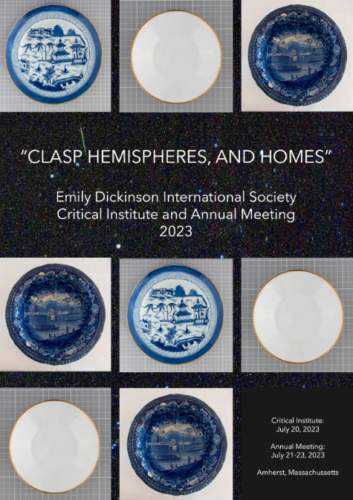 The Emily Dickinson International Society (EDIS) is returning to Amherst! For the last three summers, while EDIS has gathered online and in Seville, the Emily Dickinson Museum was closed. The Museum used the time to undertake a major, impeccably researched and executed restoration of the Dickinson Homestead; they also launched the first comprehensive cataloging of the Museum's collection of over 10,000 objects. The EDIS Annual Meeting will feature this work. Participants will be able to tour the magnificently restored Homestead, learn about the restoration from museum staff, and view objects relating to Dickinson's home from the Museum's collection that have never been exhibited. 
The conference theme, "Clasp Hemispheres, and Homes," comes from Dickinson's poem "The Sunrise runs for Both – " (M 355, Fr765, J710). In congruence with Dickinson's "Both" 16 panels with nearly 50 presentations will delve into the relation between Dickinson's mental and material interiors and her expansive embrace of wider, external spheres. Special events will include the screening of two recent Dickinson Opera films: Lesley Dill's capacious  Divide Light (2020) and Dana Kaufman's intimate Emily & Sue (2022). In addition to performances and panel presentations, the meeting will include special interest circles on research, pedagogy, translation, and the arts. Join the Emily Dickinson International Society in Amherst to celebrate Dickinson's work and the vibrant community she inspires.
All attendees of the annual meeting must be members of the Emily Dickinson International Society. The Annual Meeting regular registration fee of $175 and student/financial need registration fee of $125 includes tours of the Dickinson Homestead, Opera film screenings, refreshments, two lunches, and the Saturday Meeting Picnic-Banquet. There are no additional costs for these Annual Meeting events. A $50 late charge will be added starting July 2, so register now.
A block of rooms has been reserved for the Annual Meeting at The Inn on Boltwood (an elegant inn walking distance from campus). Call 413-256-8200 and mention code EDIS 2023 to reserve your room at the EDIS discounted rate, the block is being held until June 26th.

Address any questions about the Critical Institute and Annual Meeting to edismeeting@emilydickinsonmuseum.org