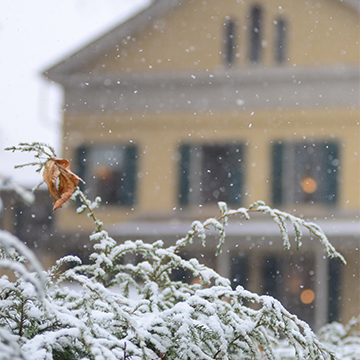 You are cordially invited to the Emily Dickinson Museum's virtual celebration of the poet's 190th birthday! On Thursday, December 10, join us for an afternoon of fun including a team bake of Dickinson's famous Black Cake, a make-at-home craft demo, and screenings of videos from our "My Emily Dickinson" collecting project, and finally the singing of the birthday song. Don't forget to sign the virtual guest-book, and be prepared for poll questions and surprises along the way!
All are welcome to this free program but registration is required. CLICK HERE TO REGISTER.
About Dickinson's birthday: Emily Dickinson, the middle child of Edward and Emily Norcross Dickinson, was born on December 10, 1830, in the family Homestead on Main Street in Amherst, Massachusetts. She celebrated 55 birthdays before her death in 1886. As an adult she wrote, "We turn not older with years, but newer every day." (Johnson L379)
SCHEDULE COMING SOON!