1-4PM at the Emily Dickinson Museum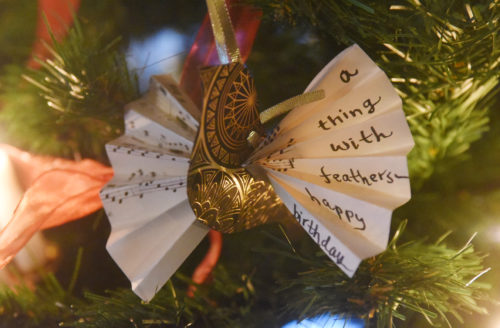 You are cordially invited to celebrate Emily Dickinson's 189th birthday at her home, the Emily Dickinson Museum! On December 14 join us for a festive open house. Tour the houses for free, enjoy the Holiday decorations and live music, create an artistic postcard to add to our "The World Writes Back: Postcards to Emily Dickinson" project, and, of course, enjoy coconut cake made from the poet's own recipe. All are welcome and no fee or reservations are required. 
About Dickinson's birthday: Emily Dickinson, the middle child of Edward and Emily Norcross Dickinson, was born on December 10, 1830, in the family Homestead on Main Street in Amherst, Massachusetts. She celebrated 55 birthdays before her death in 1886. As an adult she wrote, "We turn not older with years, but newer every day." (Johnson L379)
Birthday Celebration Schedule:
1PM Open House begins:
Walk through the Homestead and The Evergreens at your leisure and talk with our knowledgeable guides.
Don't forget to check out the exhibition of postcards to Emily in the Homestead!
Crafts: At the Homestead create your own artistic postcard to hang in our exhibition. At the Evergreens create a traditional ornament to hang on the Dickinson family Christmas tree.
1PM-1:20PM Yosen Wang String Quartet at the Homestead
1:20-2PM Festive piano music at The Evergreens by Alex Santos
2-3PM Festive piano music at The Evergreens by Sebastian Son
Sebastian Son is a junior at Amherst College. He majors in English, and in his free time loves to play music and perform on stage. Around campus, he sings in an a capella group (DQ) and performs with the Theater and Dance Department. He is slated to sing and act in Anna Plummer's senior project, the Puddle Jumping Society, which opens on March 26th at Amherst College.
2:30PM Coconut Cake is served! Learn more about Dickinson's recipe for this tasty treat here.
3-3:30PM Festive piano music at The Evergreens by Yee-Lynn Lee
3:30-4PM Festive piano music at The Evergreens by Anna Buswell
4PM Open House concludes.