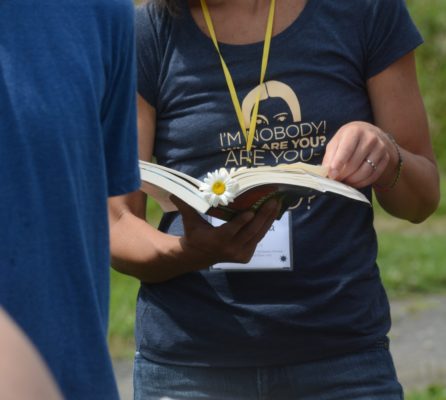 Emily Dickinson once defined poetry this way: "If I read a book and it makes my whole body so cold no fire can warm me I know that is poetry. If I feel physically as if the top of my head were taken off, I know that is poetry. These are the only way I know it. Is there any other way?" (L342a, 1870)
Reading Dickinson's poetry often leaves readers feeling exactly this way, because she names so incisively many of our most troubling emotions and perceptions. But often, too, her poetry can make readers feel this way because it baffles and challenges expectations of what a poem should be. "All men say 'What' to me" she complained (L271), and many of her readers still cry "What?" in their first encounters with this dense and elusive poetry.
While every reader of Dickinson's poems has his or her own approach to the poetry, here are some suggestions for getting started on discoveries of her work:
Stay open to linguistic surprise. The characteristics that help to make Dickinson's poetry so intriguing—the absence of titles, her dense syntax, unusual vocabulary, imperfect rhyme schemes, approaches to abstract ideas—can at first seem to obscure rather than illuminate her meaning.
Read the poem again. Dickinson begins one well-known poem "Tell all the truth but tell it slant—" (Fr1263). The power of Dickinson's poetry often comes from her playful but potent sense of indirection. Trying to understand her poetry doesn't mean solving it like a riddle, but rather coming to recognize its slippery strategies. Read the poem a third time. Set it aside and come back to it. Look at the poem with a friend.
Review Major Characteristics of Dickinson's Poetry. How does the poem exemplify or confound these characteristics?
Set aside the expectation that a poem has to "mean" one thing. A Dickinson poem is often not the expression of any single idea but the movement between ideas or images. It offers that rare privilege of watching a mind at work. The question of how we know anything comes alive as we read Dickinson.
Try "filling in the blanks." Sometimes Dickinson's syntax is problematic—the poems are so compressed! In lines where a verb or another critical word seems to be missing, what words might create meaning? Don't feel that there is only one possibility. The variorum editions of her poetry reveal that she often thought of many alternative ways of expressing an idea. Looking at her variant wordings for a poem can help illuminate its possibilities.
Don't try to make the poem "about" Emily Dickinson. Dickinson writes in the lyric style, in which the speaker of the poem is often referred to as "I." While the poem may represent the view of the poet, it also may not.
Look for recurring themes, images, and strategies in Dickinson's poetry.
Get out the dictionary. Emily Dickinson once wrote, " . . . for several years, my Lexicon was my only companion" (L261). She had an exceptional command of the English language. Look up words that are unfamiliar, or that she uses in unfamiliar ways. Try the new Dickinson Lexicon, an on-line resource that defines all words used in Dickinson's poetry with definitions from the dictionary she herself owned, Noah Webster's American Dictionary of the English Language.
Consult a Bible concordance. Dickinson also had an exceptional knowledge of the Bible. Sometimes an unfamiliar word or image may be an allusion to a Biblical passage. A good concordance to use is James Strong's The Exhaustive Concordance of the Bible, which is keyed to the King James Version, the version that Dickinson read.
Read the poem aloud. Poetry is an ancient, oral tradition. Often reading a poem aloud can help to elucidate its meaning. One of Dickinson's early editors, Mabel Loomis Todd, convinced Thomas Wentworth Higginson (her future co-editor) of the power of Dickinson's poetry by reading selections aloud to him.
Keep reading. Develop new strategies for reading Dickinson—and share them with us!
Below is a short list of poems that provide a good introduction to her work: 
Fr122 These are the Days
Fr204 I'll tell you how the Sun rose
Fr207 I taste a liquor never brewed
Fr260 I'm Nobody! Who are you?
Fr359 A Bird came down the Walk
Fr370 Within my garden
Fr373 This World is not Conclusion
Fr466 I dwell in Possibility –
Fr591 I heard a Fly buzz – when I died –
Fr598 The Brain – is wider than the Sky –
Fr781 Remorse – is Memory – awake –
Fr1096 A narrow Fellow
Please note the following about quotations from Dickinson's writings:  "Fr" followed by a number refers to an Emily Dickinson poem as published in The Poems of Emily Dickinson, Variorum Edition, ed. R. W. Franklin (Cambridge, Mass. The Belknap Press of Harvard University Press, 1998). "L" followed by a number refers to a letter written by Emily Dickinson as published in The Letters of Emily Dickinson, ed. Thomas H. Johnson and Theodora Ward (Cambridge, Mass.: The Belknap Press of Harvard University Press, 1958).