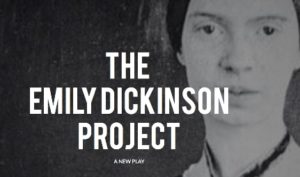 Date: June 27, 2015
Time: 5 pm
Location: Amherst College Alumni House, 75 Churchill Street
Suggested donation: $10 per person/ $5 for museum members and students
TheatreTruck co-founder and costume designer Elizabeth Pangburn offers a talk exploring the fashion and clothing of Emily Dickinson's Amherst through her lens as a designer, answering the question: "How to dress Emily?" Get an inside look into the research and creative work of The Emily Dickinson Project, a site-specific theatrical production taking place at the Homestead July 15-August 2. 
After the talk, the audience will have the unique opportunity to help choose a costume design for The Poet, one of the variations of Emily featured in The Emily Dickinson Project. Which version of The Poet will you choose? TheatreTruck will offer three costume renderings of this character and you can bid for your favorite. The rendering with the most bids will be the garment produced for this summer's production!
Reservations are not required for this event.
Proceeds from the event will directly benefit this summer's production of The Emily Dickinson Project, a co-production of TheatreTruck and The Emily Dickinson Museum. For more information, visit the TheatreTruck website.